Defined By More Than The Score
After an impressive season and an unfortunate loss, varsity girls basketball has come to a close.
On March 4th, the Cats faced John Burroughs in the District Championship. Throughout the entirety of the first half, the girls played some of the best basketball that they have all season. Specifically, standout Julia Coleman, junior for the Wildcats, scored 26 of the team's 39 points. Coleman has been dominant all season long, averaging 15.4 points, 7.9 rebounds, 2.93 assists, 3.19 steals, and 1.22 blocks. Unfortunately, due to poor outside shooting from Westminster and a strong Burroughs defense in the second half, the Cats fell in a 49-39 loss.
"Regardless of the loss, I am proud of the effort that we put into the game," said Reilly Brophy, senior.
Heading into the half, the Cats led 26-23 and were determined to continue their momentum into the rest of the game. However, the missed first half shots that were expected to be hit in the second half, specifically Brophy and Carlie Vick, seniors, did not fall. In the final sixteen minutes of the game, the Bombers, who recently won state for Class 4, outscored the Cats 26-13.
"My shots were not falling in the first half, but I knew that I had to keep shooting in order to keep playing my role and leave it all out on the court," said Vick.
Nonetheless, the heart-breaking loss does not define their season. With a record of 19-8 and the adjustment of team chemistry due to the injury-induced loss of Brooke Highmark, senior, the team was still able to obtain great success. One of these positive memories was dominating Webster Groves, who placed third in state for Class 6. The 55-44 win was a much needed pick-me-up for the team after an unprecedented loss against Francis Howell Central a few days prior.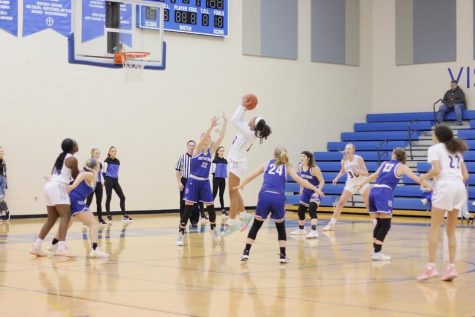 "I was very proud of our focus and our energy. We came out very disciplined and stuck to the game plan. Our defense really fueled our offense and we played really well together as a team. It was a great win for us as a team and a collective performance on both ends of the court," said Coach Kat Martin.
From the beginning, the team was loaded with talent. Coleman and Vick, Florida Atlantic University signee, received First Team All-Conference honors, and Brophy received Second Team. For the district, Coleman received Co-MVP All-District with Burroughs' Allie Turner, sophomore, Vick was named First Team, and Brophy was named Second Team. Coleman and Vick were also voted to the All-District Tournament team and have been nominated for All-State honors. Brophy, Highmark, and Aseanti Boone, senior, were awarded Academic All-State.