Cats Demolish the Red Devils
The boys basketball team hands Chaminade their worst home loss in over ten years.
On Saturday, February 12th, the Cats matched up against the seventh ranked Chaminade Red Devils. Coming off a big win against Lutheran South, the boys were ready for some competition. After a dominating performance, they brought home a big win 64-30.
Never having played this team before this season, the Wildcats needed to come out strong and prove that they could compete with the big guys. Coach Ribble knew, if they could shut down the Red Devils point guard, BJ Ward, who averaged thirteen points a game, the team would do just fine. Plan executed. Ward finished the competition with ten points and was the only Chaminade player in double digits.
The Cats came out hot, scoring 36 points in the first half and holding the Red Devils to seventeen. Coming off a great offensive game, Matt Buchanan, senior, was automatic from the three, putting up twelve points. While Kobi Williams was the team's high scorer at seventeen, Casen Lawrence and Austin Vick, seniors, were also contributors in double digits, with twelve and ten. When it came to rebounding, EJ Williams and Caleb Thompson, seniors, dominated the paint. EJ had five defensive and five offensive rebounds, while Thompson had three rebounds on defense and four on offense.
Everyone notices the team chemistry on the court, but the players' relationship with their coaches is just as important. Coming from coaching at the college level in 2016, Dale Ribble, head coach, brought his experience to Westminster Christian.
Ribble is a master at using a combination of his starting five as well as players coming off the bench to keep the opposition off balance. He capitalizing on each of their individual strengths while maintaining an overall unity.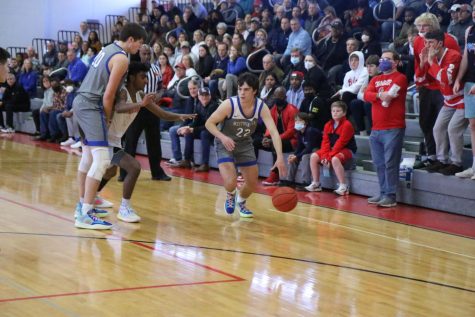 Even when the Cats had a significant lead, Coach Ribble continued to motivate his team as though it were a two point spread. His knowledge of the game, leadership, and Christ-like character has combined to form a talented, disciplined, and successful team this season.
The Wildcats will meet Priory for the second time this year on February 18th. After this, they will only have two regular season games remaining before the journey toward the state tournament. With the momentum they have generated under Coach Ribble's leadership, they are primed to be playing well into March.