Boys Soccer Advances to District Finals
Due to senior talent and leadership, the Cats defeat St. Charles 3-0.
This year's Class 2 District 3 soccer tournament semifinals was set to be a good matchup: the one seed, Westminster, against the five seed, St. Charles. Going into the game, the Wildcats held a solid 15-5 record compared to the Pirates' 12-7.
The game started off strong for the Cats, as Caden Collison, sophomore, used his speed and athleticism to blow by the defenders and score the first goal only nineteen minutes into the game.
Later, Wildcat captain Caleb Legters, senior, scored two goals to put the Cats up 3-0. Letters played an outstanding game on both the offensive and defensive end.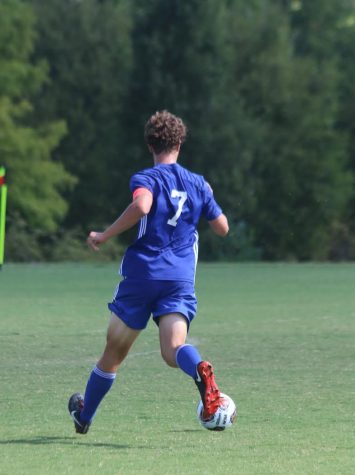 Will Warren, junior, had missed the past few games because of an injury, but he was able to come back and play. The team was thankful that he was able to give a rest to the top offensemen.
Captain Jack Lemp, senior, played impressive defense, largely contributing to the zero goals scored by St. Charles through constant pressure.
Riley Heironimus, star goalie for the Cats, anchored the team with his skills and showed off his leadership. This was Heironimus's eighth shutout of the season.
As a result of Westminster's 3-0 win, they will play Whitfield, a challenging opponent, on Wednesday, November 3rd at 6 p.m. in the district championship game.