The Impact of Coach Farmer
New softball assistant coach helps players with their mentality both on and off the field.
Kassi Farmer, former catcher and softball player for Indiana University, has brought a culture to the softball program that has motivated the team to work harder and want to achieve higher goals.
This season is Coach Farmer's second year with the team, but due to last year being a COVID year, the team was not able to build as much chemistry with her as they have this season.
"It felt a lot more difficult to make connections and provide instruction while also keeping distance and wearing masks. I have enjoyed this year of coaching more than last year because I can just focus on helping my players become better and not all of the additional challenges that COVID presented," said Farmer.
Coach Farmer played softball for fifteen years before finally hanging up her cleats, but in the midst of her illustrious career, she faced an unfortunate injury, as she tore her ACL at the end of her sophomore year of high school. Similar to any athlete who goes through this terrible injury, her mindset prior to the injury was more heavily focused on her agenda rather than God's agenda. Farmer described having felt as if she had no purpose after the ACL tear and feeling like she no longer had control of her athletics. But, after a while, she was finally able to understand what God was trying to communicate to her.
"After taking almost a year to get back to 100%, my perspective of the game of softball completely changed. I realized that I had taken the opportunities that I had been given for granted and I became humbled and more grateful for every game and practice. Instead of showing off the abilities God gave me to make myself look better, I wanted to dedicate my time and talents to Him," said Farmer.
Due to her eventual ability to further understand that sports are far more than personal achievements, Farmer has begun to instill long-lasting advice into her players because she wants them to know that the habits that they make now will carry on into their lives later on. She believes that it is important for athletes to focus on positive mental habits so that they can view athletics as something much bigger than themselves.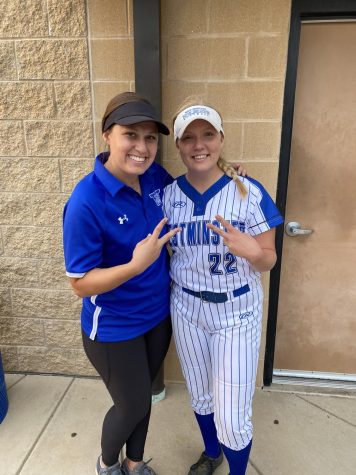 "Coach Farmer has helped me individually because she pushes me to be my best every game and also wants me to not just do my best physically in the game, but also focus on my mindset and mentality. She also has helped me expand my knowledge of the game and wants me to help my entire team do their best too," said Ellie Berkland, sophomore.
Farmer was an experienced college athlete at Indiana University and has been able to reflect on her time as a player and translate it to her coaching style. She knows the ins and outs of the physical and mental side of softball in ways better than most coaches.
"There were a lot of ups and downs during my four years playing and at times I lost the joy that I felt for the game. As a coach, I want to not only teach my players new skills, but I always want them to value the game and learn to find the joy in a game that has given me so much in life. Most of the past experiences from college that I bring into coaching are the life lessons that I learned while growing as a player and teammate," said Farmer.
One of the team's favorite memories from this season was "Coach Farmer Practice." One day, the other three coaches were unavailable to come to practice, so the team had an opportunity to get Coach Farmer one-on-one and truly benefit from her knowledge of the game and unique coaching style. The practice was a mixture of fun and serious and was definitely needed in the middle of the season. This helped the team shift their perspective from playing for themselves to playing for each other, which later became a team motto for the rest of the season.
"When I coach, I want my players to not only physically improve but to also grow mentally. In this specific practice, I wanted my players to look beyond what would benefit themselves and instead look at what would benefit the team as a whole. Failure is a part of any game and I wanted the players to learn from it instead of becoming frustrated by it," said Farmer.
As Farmer was a catcher her whole life, she has influenced the team's catcher, Ellie Berkland, the most because has taken on the role of mentoring her game. Farmer has definitely not taken it easy on Berkland, however, because she sees her potential and wants to push her to be her best. Most catchers are familiar with "up-downs," a strenuous movement that helps with blocking a wild pitch and quickly getting back on your feet to keep runners at their base. Coach Farmer makes Berkland do a certain amount of these after each game depending on her performance.
"I don't love up-downs, just like any other person doesn't like running suicides for a bad performance in a game or your team's performance. Sometimes they can get annoying because some of the things I did during the game were kind of out of my control. Overall though, they have helped me become stronger and more focused about how I perform. I have also learned that despite having a "good" or "bad" performance, some things will always be out of your control but you should still use those to make yourself better," said Berkland.
Coach Farmer has clearly impacted the team in faith, life, and the game of softball. She has personally experienced a lot of the struggles that not only the team but individual players have faced this year, and the team's record has reflected that. She is loved by the entire team, and each player is thankful for her sacrifice to come and make the team the best that they can be.
"I think my personal experience not only on the softball field but also as a female athlete brings value to the team. It wasn't all that long ago that I was going through many of the same issues as the players on and off the field, and I want to be able to encourage them through the life lessons that I have learned along the way. Not only can I demonstrate the skills that they need on the field, but I can also empathize with their struggles off the field," said Farmer.