Softball Pulls A Win
Westminster varsity softball faced St. Charles High School for the first game of the FZE tournament on Thursday, September 16th. Unfortunately, they lost in the bottom of the eighth inning seven to six in the final play of the game with B. Kendrick driving in a run for St. Charles to win the game.
In the second game of the FZE tournament, the softball team faced a similar fate when Hazelwood West's catcher, A. Cofolla, hit a walk-off home run in the bottom of the eighth inning to win the game 9 to 8.
After two extremely difficult losses for the Wildcats, the varsity softball team was determined to finish off the tournament on a high note. The team came out to play on Saturday, September 18th, scoring ten runs in the top of the first inning to secure a substantial lead against St. Charles West. Kennedy Pearson, Hope Linam, Victoria Fuller, Savvy Duncan, seniors, Julia Martin, junior, and Ellie Berkland, sophomore, all drove in runs in the first inning, contributing to the lead.
"Even though we had some close unfortunate losses, the team rallied together and finally came out on top," said Pearson.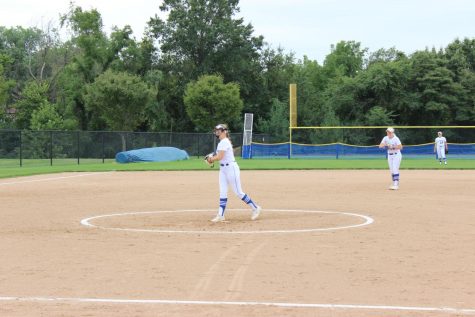 Although hoping to finish the game early due to a big lead, St. Charles West stayed in the game, scoring three runs in the bottom of the fourth thanks to a double from West's Leanna Mitts.
Gabby Merrifield, junior pitcher, played a great game for the team, as she pitched six innings and struck out nine batters. Even in the midst of the heat, Merrifield kept her composure and finished the game strong, winning 15 to 8.
The Cats acquired nine hits against St. Charles West, with Merrifield, Jadyn Patton, junior, and Molly Kate Bugh, sophomore, leading the team for the day, as each had multiple clutch hits and drove in runs when the team needed it most. Both Patton and Merrifield had three hits to lead the Wildcats. Merrifield also had four RBI's between four AB's in addition to pitching an outstanding game.
Although the Cats had a rough start to the tournament, they ended on a much needed victory and hope to continue the energy into the rest of their season. The team is favored to do well in their district this year and have some competitive games coming up.
"As a team, we look forward to winning more games, working hard, and coming out to play from the first pitch," said Emma Yost, senior.