The Future of the Game
Talented underclassmen and experienced upperclassmen are ready to work together to develop the football program.
With the football season starting up in a couple of days, the numerous underclassmen on the team are ready to step up and fill some big shoes.
"My mindset this year is simply to be better than last year. If I can consistently improve throughout the year, I know I will be able to hang with the upperclassmen at the varsity level," said Caden Collison, sophomore wide receiver.
Matthew Moore, freshman, shares a similar mindset to Collison, as he feels confident in the preparation that he has put in during the summer in order to make a significant contribution to the team.
"Given that we're underclassmen just makes me want to shock people even more because our freshman, sophomores, and juniors all have a lot of talent, so we can't take our feet off the pedal. Grind is not over yet," said Moore.
Chris Heard, a sophomore, is well aware of the team's strengths and knows that the underclassmen are "next up" in the program.
"I believe that our linemen are insane compared to other schools, and it's gonna help us in the long run," said Heard.
Larry Minner, Sterling Webb, Joshua Anderson, and Ben Broadhurst, seniors, are not worried about the players taking their spots after graduation.
"With this being my last year, I think that Sam Avanzado and Josh Avery will step up," said Minner, strong safety, running back, and impactful leader on this team.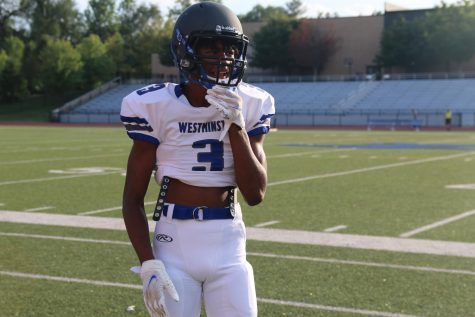 "The person at my position that I think will step up next year is probably Maddox Rosenberg. He may not be the greatest, but he is by far the most hard working out of them all," said Webb, defensive end and nose guard.
"Knowing this is my final season at WCA, I've seen a lot of growth from Mason Burnham, a sophomore. He's really impressed me with the improvement in his technique and strength. He'll make a great tackle," said Joshua Anderson, nose guard, and Eastern Michigan verbal commit.
One big change to this season is Shepard Nye, sophomore quarterback, who now has a big responsibility and a strong leading spot on the team.
"With Shepard being an underclassman he has to stay calm. Especially with his first varsity snap coming up. I try my best to keep him calm, he gets much at not making the same mistakes. Once he gains full control of that he can be a threat to opponents," said Minner.
"Having a new QB has been an adjustment like learning his playstyle and how he moves in the pocket, but Shepard has been a great QB with a good arm, and he's stepped up a lot as a leader, so I think he's earned the respect and trust of the team throughout the summer and preseason," said Anderson.
Whether they know it or not, the upperclassmen have mentored the younger players throughout their years as Wildcats, and their impacts will not be forgotten.
"Broadhurst and LJ are perfect examples of prospering student-athletes, and I strive to have their worth ethic, maybe better," said both Heard and Moore.
"I look up to Ben Broadhurst. He's really been a mentor for me at the wide receiver role, and he's helped me understand the game and how to play it to my best ability," said Collison.
"Jack Powers, 2021 graduate and Cornell offensive lineman, was a great role model because he performed to the best of his ability both on the field and in the classroom. This showed me that you can be an outstanding student and athlete, and that you can never settle for anything less than your full potential. He also helped me by taking me under his wing freshman year and teaching me more about football and the community of the Westminster football family," said Mason Burnham, sophomore.