Experienced Swim Coach Sets High Expectations
Kevin McGowan plans to develop his swimmers both in and out of the pool.
Kevin McGowan, boys swim team head coach, accompanied by Rick Hendricks, assistant coach, has made an immediate impact on the program by introducing a new style of coaching.
Through different techniques and coaching styles, the swim team expects to see results and progress that they have never seen before.
Heading into his 42nd year of coaching, McGowan began his career in 1979 as a senior in high school with country clubs, the YMCA, and various high school teams. He later moved up to working with the Belgian Olympic Team, United States Olympic Team, and Yale University.
Most of McGowan's learning was during the 80's while working with the US Olympic team head coach, Frank Keefe. Keefe served as an assistant coach for the 1984 United States Olympic team at Los Angeles and was the head manager for the 1988 Olympic team at Seoul.
"The knowledge gained from Frank Keefe was invaluable," said McGowan.
Picking up where last season ended, Coach McGowan started his first season of coaching the Wildcats by requiring returning swimmers to bring their best times from last year and make goals for the end of the season. This not only includes making personal best times but swimming in races that they did not compete in last year.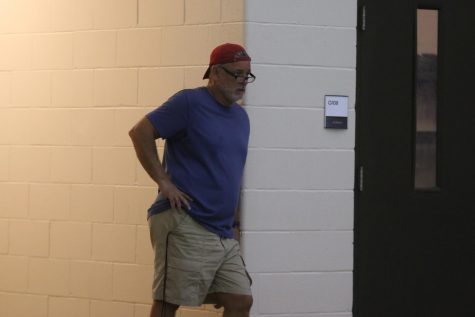 By introducing the new "step-dive" method for relays, he hopes to shave off six seconds on each relay. Along with this, he has very ambitious goals of breaking eight school records, including the 200 Medley Relay, 200 Freestyle Relay, and 400 Freestyle Relay. For individual events, the 50 Free, 100 Free, 100 Breast, 200 Free, and 500 Free, are all set to be broken this year. The 500 Free record was previously set by Coach McGowan's son, Maddock, in 2018.
"I have never worked with a better group of guys," said McGowan.
McGowan pushes the swim team every day through a new practice schedule. This includes introducing four morning practices before school each week along with the after school practices, and a Saturday afternoon practice.
"I think that one of my strengths is being able to show swimmers what tomorrow can be for them, how they can get there, and how I can be their motivation," said McGowan.
Relating this same philosophy to Christianity, he preaches to the team that a new Christian with dedication can do great things. In the twelve weeks that he has had with the swim team, he hopes to bring each swimmer closer to Jesus Christ.