Presence Made at the Battle of the Bulldog
Cole Willyard wins Bulldog golf tournament at Wing Haven Country Club.
The annual Bulldog golf tournament at Winghaven Country Club is highly anticipated every year. This year's competition was filled with low scores for both individuals and teams. With over twenty teams of five, this tournament was packed with talent.
While normally high school golf teams have eight varsity players, this tournament was only for the top five, meaning that the competition was going to be strong. For example, some of the teams included in this tournament were arguably some of the best in the state. Featuring DeSmet, CBC, Chaminade, and SLUH, this tournament was intense and came down to only a few deciding strokes.
On the individual side, there were many low scores throughout the day, including 26 scores breaking 80. Two of these scores came from Westminster's Sam Vestal, junior, and Cole Willyard, senior. Willyard initially posted a 74, while Vestal posted a 79. Despite the fact that Willyard got into the clubhouse rather quickly because of his early start, his score held up against the rest of the competitors, making for an interesting playoff hole.
While resting in the clubhouse for almost an hour, Willyard was notified that if his score remained as one of the first place scores, there would be a playoff hole to determine the sole winner of the Bulldog tournament. After being told to "stay loose" from a rules official, Willyard went to the range and hit a few more putts.
When the last few groups came in, Willyard realized that he was still tied for first place with three other individuals. This meant that the group of four, all tied at two over, 74, would go back to the 18th hole in order to play a playoff hole.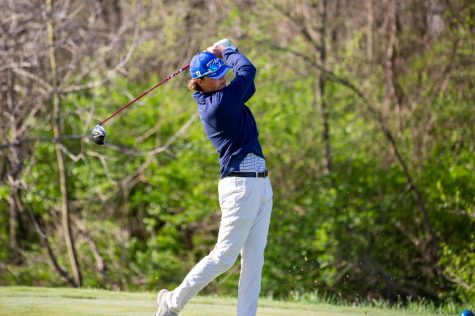 "That was the most nervous I've ever been in a golf tournament," said Willyard, senior.
Willyard finished the playoff hole with a tap-in par to seal the title of 2021 Bulldog Champion. Cole was absolutely ecstatic after his win and was ready for his next round.
On the team side, the Westminster boys finished in sixth place out of twenty teams. With a team score of 319, the team was only sixteen strokes behind the first place team and three strokes behind second place.
Overall, this was a great experience for the boys golf team, as a sixth place finish in this tournament is respectable. With scores like the ones posted at the Bulldog tournament, the boys golf team should be hopeful for the rest of the season.