Luke Matheny Returns to Westminster
After having a successful baseball career at Westminster, alumni Luke Matheny plans to pass on his wisdom and mentorship to younger players.
Westminster baseball has been and continues to be a program filled with extreme talent and respectable athletes, one of which is Luke Matheny, 2015 Westminster graduate.
Matheny comes from a well known baseball family, as his father, Mike Matheny, played for and has coached the St. Louis Cardinals. His older brother, Tate Matheny, is currently affiliated with the Boston Red Sox organization. Also, his younger brothers, Jacob and Blaise, went on to play baseball for Mizzou and Missouri State University. Each one of his brothers graduated from Westminster Christian Academy before taking their athletic careers to the collegiate or professional levels.
Luke Matheny went on to play for Oklahoma State University and later St. Louis University as a pitcher. However, Luke has been the only one of the Matheny children who decided to come back to Westminster and coach. Currently, Luke Matheny is the head coach of the junior varsity baseball team.
"Being back at Westminster is awesome. It is definitely a different feeling not recognizing most of the faces around school, but it is an honor to be able to coach at such a powerhouse baseball school and a school that played a huge role in my development as a baseball player and young man," said Matheny.
Having grown up in a baseball family, Luke Matheny was originally interested in the sport in order to be similar to his father, but over the course of his life, baseball has become something much more than that. Thanks to the roles that Coach Gall, Johnson, Petke, Benes, and Veeg (Vanglist) played in his life, Matheny accredits his personal development as a player and man to not only these coaches, but to Westminster; the school challenged his faith in not only sports, but in life.
"Westminster helped me shift my mindset from playing baseball because it would be cool to be a famous athlete to playing baseball as a way to glorify God with the gifts and talents he had given me. The game ends for everyone at some point, but the lessons and character learned through the sport last forever. Lessons like leadership, teamwork, discipline, accepting/conquering failure and bringing glory to God in all you do are things that transcend any game and apply anywhere you go in life, and baseball helped me learn each of those," said Matheny.
Throughout his time at Westminster, Matheny can recall many teachers who humbled his ego when it came to baseball but also grew his faith, equipping him for the difficult conversations that he would have in the future. Growing up in a Christian family, God was always going to be a part of his life in one way or another, but Westminster created an opportunity for him to grow a firm foundation centered around the Lord. Therefore, Matheny was able to use his roots in Christ on the baseball field and in his personal life after he graduated.
"Leaving Westminster, I felt equipped to go off to college and succeed not only academically and athletically, but also spiritually. I can look back to World Views [a Westminster Bible class], learning arguments that people will bring against our faith, and then having that exact argument my first year of college on an eight hour bus ride with a close friend/teammate who is an atheist. Through all of that, I was prepared, which allowed me to be confident in all areas of my life and ultimately grow and succeed once I left Westminster," said Matheny.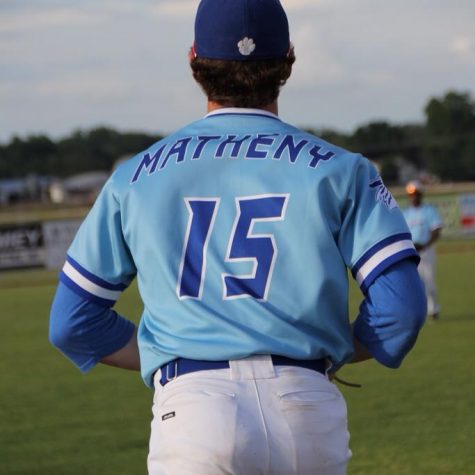 Over the twenty two years Matheny spent playing baseball, he was able to learn some of the best advice, tips, and tricks from some of the best baseball players in the world. He looks forward to sharing that same knowledge with the players he will coach. Matheny, having gone through the highs and lows of baseball himself, knows the cost of getting too wrapped up in wanting the glory of it all, which is why he hopes to teach more than just baseball to the young men who cross his path.
"The truth is, such a small percentage of high school baseball players make it to college and much fewer beyond that, so as a coach I am personally responsible for teaching them more than just some cool tips that may not have much impact in their lives in a year or two. I will try my best to make every player the best baseball player they can be, and I sure hope we send them all to college on athletic scholarships. More importantly, I hope they learn leadership, teamwork, etc… Although these things at their age are not "cool," I hope to teach the value of high character so that they can see past the game and walk away with something more than a tip on how to throw a good curveball," said Matheny.
Luke Matheny left a lasting impression on Westminster baseball, gaining several accolades such as the 2015 Perfect Game Honorable Mention All-American and All-Central Region Second Team. As a senior at Westminster, he struck out 70 batters in 60 innings, with a .313 batting average, including two home runs and 21 RBIs. Additionally, he was 2014's PG Underclassmen Honorable Mention All-American. Matheny was not only a baseball star but also played hockey and football, making him a well rounded athlete. Luke Matheny is a role model for Westminster students who can guide them in athletics, life, and faith.
"I am looking forward to being back on the field with the 'Blue W' on my hat. Three of the most fun years of my baseball career were played in a Westminster uniform and I take so much pride in this place and the level of baseball we play. It is a privilege to be a coach at such a respected school and a place that has such a unique culture that you do not find many places. I am excited to work with the other coaches in the program who have been very successful at this level and who will help me make the transition from player to coach," said Matheny.
Westminster has a number of alumni who have chosen to come back and coach their respective sports in addition to Matheny. Jake Worrell, who graduated in 2009, has been an assistant coach on the varsity baseball team for five years. Tyler Catlett, class of 2014, is the new assistant coach for the junior varsity baseball team. Lastly, Nathan Hall, class of 2016, is the new assistant boys volleyball coach.