Boys Baseball Falls to Burroughs After Massive Comeback
After a disappointing seventh inning, the varsity baseball team took an upsetting loss of eight to nine against the Bombers.
On Tuesday, April 13th, the baseball team took on the John Burroughs Bombers. Mizzou commit Zach Dantuono, senior, started the game pitching for Westminster and struck out two batters, but this only lasted one inning. Dantuono had two hits off of him, earning one run for the game.
Despite the loss, after a series of unfortunate walks mixed in with some hits from Burroughs, the Cats still had seven hits, coming from both Parker Smith, junior, and Landen Johnson, senior. Smith went two for three, leading the team in hits against the Bombers. Westminster also stole ten bases, and Smith had three of them.
Westminster controlled the game up until the top of the seventh inning with the score of eight to two; the game seemed to be secured for the Cats. In the top of the sixth inning, Max Mentel, sophomore, went in to relieve Noah Leingang, junior, after he reached his pitch count. Leingang had a strong game against John Burroughs, only having one run scored off of him; Leingang is the team's second most consistent pitcher behind University of Arkansas signee, Nick Moten, senior. Leingang finished the game with three strikeouts, showing that he has great pitchability and can regularly hit the strike zone.
Mentel started off strong and got the last out in the top of the sixth inning. However, in the top of the seventh, after getting two outs, Mentel struggled to close the inning and walked numerous batters, receiving five earned runs total for the game. Matt Buchanan, junior, went in to relieve Mentel in the top of the seventh. Buchanan has had a great season so far in closing out games, but with three batters already on base when he entered the game, he struggled to hit the strike zone. After the Bombers were able to score an additional two runs off of Buchanan, Joshua Stratton, senior, entered the game to close the top of the inning.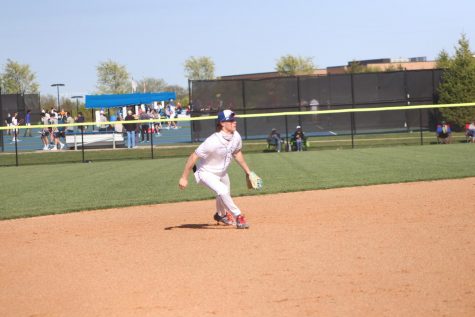 Heading into the bottom of the 7th, the score was eight to nine with Burroughs taking the lead. Unfortunately, Westminster was unable to take back the lead, as the closing pitcher for John Burroughs, who pitched one inning, was able to finish the game with zero runs on zero hits, striking out two and walking one. However, the Cats are looking forward to their rematch against the Bombers today, Wednesday April 14th as they hope to come out with the win.