Westminster Athletes Will Not Let Their Injuries Define Them
Adam Ebling and Caleb Moellenhoff, seniors, stay optimistic despite their setbacks.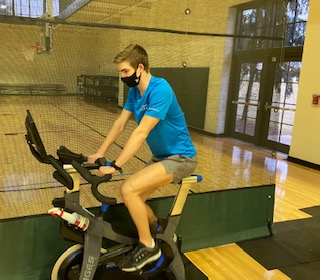 It's no secret we live in a fallen world. Everywhere we go, there is brokenness and heartache, and even the most enjoyable things do not escape the effects of sin.
This cannot be more true for the realm of sports. Intended to be a way to have fun and feed your competitive fire while also staying in shape, sports too often cause the body to break down, resulting in injury. It doesn't matter who you talk to either. If anyone has played sports long enough, they inevitably will have endured a few battle scars.
Personally, I have broken my right ankle twice playing pickup basketball, knocked out my permanent front tooth playing a game on a waterslide, and endured multiple overuse injuries from running, including a hamstring strain I am currently nursing.
As I work my way back from injury, I thought it might be worthwhile to check out other Westminster athletes who are also enduring a rehab process. It is easy to feel stuck and sorry for yourself while having to sit on the sidelines, so I interviewed them to understand how they stay motivated and hopeful while trying to get healthy.
Adam Ebling, a senior baseball player at Westminster who has committed to play baseball at Tulane, has dealt with a serious knee issue called Osteochondritis Dissecans this year leading up to the baseball season.
The Mayo Clinic refers to Osteochondritis Dissecans, or an OCD lesion, as "a joint condition in which bone underneath the cartilage of a joint dies due to lack of blood flow; this bone and cartilage can then break loose, causing pain and possibly hindering joint motion." Unfortunately for Ebling, his condition was only treatable by surgery and a long recovery process.
"The surgery for this requires for the doctor to place screws in the knee bone in order to force healing. This made my recovery difficult because I wasn't weight bearing for 9 weeks. From this, I lost a lot of muscle and weight," said Ebling.
It was extremely difficult for an elite, dedicated athlete such as Ebling to be unable to participate in sports for a long time, but he made a point to focus on what he can control and take each day as an opportunity to get better.
"I had to stay focused and take pride in the little things early on. With a 6 month rehab process, I am constantly reminding myself that I won't let an injury define me. I control what I can control, and that is my attitude and effort. Every time I do rehab exercises, I realize that I'm one step closer to my goal, which is being healthy again," said Ebling.
Like Ebling, Caleb Moellenhoff, senior cross country and track runner, has also endured a long recovery process from an injury. Moellenhoff originally tore his hamstring in the winter of 2018, and it took him over a year and a half to get back into shape.
After a relatively injury free few months of the 2020 cross country season, Moellenhoff began to feel pain in his calf during the last few weeks of the season. When the season ended, he got checked out and was diagnosed with a stress fracture of the shin.
Despite his circumstances, Moellenhoff has used his injury as a way to better himself in other aspects of life.
"I have found that it is much better to not dwell on the fact that I can't do one of the things I love, but to look at it as an opportunity to get better in other ways, whether that is in my sport or just in life. Since athletics are neither the ultimate nor the only thing in my life, I have been able to enjoy life outside of my injury. Recently, I found more time to play the piano, read, and spend time with family," said Moellenhoff.
Caleb's injury has not just made him a more well-rounded person and helped build his character, but it has also tested his persistence and dedication to staying in shape, a test he undoubtedly won.
"I've been able to work on upper body and core strength and get better at swimming and cycling to stay in shape. I find that one of the things I like most about running, fitness and stress relief, is not necessarily specific to running. I try to keep the same mindset going into doing physical therapy exercises or a swimming workout each day that I would for running," said Moellenhoff.
Although injury may be a part of our fallen world, both Ebling and Moellenhoff have proven that God can use our brokenness to help us build character. Life is not without difficult circumstances, and fighting through an injury in high school has taught athletes like Ebling and Moellenhoff the importance of perseverance in the midst of adversity.