Shoenberg's contribution to S&C culture
Coach Greg Schoenberg impacts kids in more than just the weight room.
Coach Greg Schoenberg has been and will continue to be a crucial aspect of the success of all Westminster sports. While his name is not mentioned on team rosters, Coach Schoenberg ensures that athletes of all sports stay in shape both in season and afterward is finished. Not only does Schoenberg get everyone in physical shape for their sport, but he also brings energy and enthusiasm to the weight room that excites all athletes for their upcoming sport.
"I love S&C for so many reasons, but to boil it down, the most simple is that training allows us to build upon the gifts and abilities that God has given us," said Schoenberg.
A big part of Schoenberg's enthusiasm in the weight room comes from his drive to bring glory to God. Because he is such a firm believer in Christ, he pushes himself and others to work as hard as they can to not only allow each athlete to reach their personal goals, but also to better the relationship that they have with God.
Along with setting a good example for his students in their spiritual walk, Coach Schoenberg also ensures physical improvement. Strength and Conditioning is a crucial aspect of every sport, and Coach Schoenberg makes sure that every athlete will be well prepared for their season.
"For our in season athletes, we talk about ending the season stronger than when we started it. For our off-season athletes, we get to build strength with the next season in mind!" said Schoenberg.
If you have ever participated in any workouts with Coach Schoenberg, you know that he is not simply a strength coach; he truly cares about your personal well-being and the functionality of your team. The level of care in which Coach Schoenberg displays in the weight room daily is another crucial way in which he wants all of his athletes to grow. Through coach Schoenberg's example, players learn the importance of caring about their teammates and building healthy relationships in order to grow mentally tough as a team.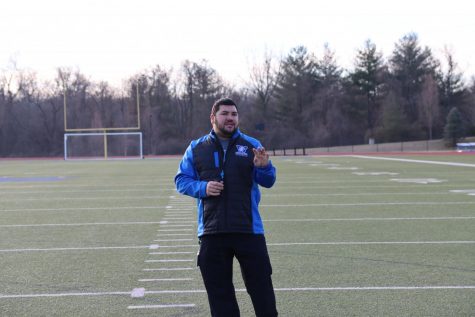 "I enjoy feeling good physically, and when I train in any way, I also feel benefits mentally and emotionally."
As Coach Schoenberg continues to push his athletes to be the best they can be, Westminster athletes continue to thrive. Students are thankful for his continual hard work and dedication each day and know that a big part of the success of Westminster athletics is due to his presence in almost every sport.
"Pillar 1 says, 'Honor Jesus Christ in all that we do.' I feel like I have a chance to do that every time I get to do something challenging, like training and competing. Phillipians 4:13 says, "I can do all things through Christ who strengthens me.' One of my favorite verses," said Schoenberg.