Girls Basketball Beats Webster in a Nail-Biter
After a huge win, the girls basketball team is now the second ranked team in small schools.
On December 16th, the Westminster Wildcats faced Webster Groves, the #1 ranked team in large schools. Knowing that Webster was going to be a worthy opponent, the girls prepared well to play to the best of their abilities in the week prior.
While both teams struggled offensively in the first half, each team played amazing defense. This back and forth game was only 16-16 at half time.
Even though the first half was low scoring, some Westminster players were able to score despite the intensity of the Webster defense. Reilly Brophy, junior, scored a crucial six points in a row in the second quarter.
The second half opened with a seven point run by Brooke Highmark. Her ability to get to the basket and draw fouls allowed her team to keep the game close. Highmark finished with a total of fourteen points and helped her team defensively by holding her defender to only eleven points who has averaged seventeen points a game so far this year.
This competition was back and forth for all 32 minutes. With fifteen lead changes, the intensity of this game was unlike any other. The competition between these two worthy opponents made for a fast paced game that was found to watch.
Another crucial aspect of the Westminster girls basketball team is their six foot two junior post player, Carlie Vick. Vick played one of her best games of the season with five blocks and eight points.
"I'm really proud of how our team pulled through and finished this game. I think that this will get our confidence up for later in the season," said Vick, junior. She goes on to say that this game "also shows how good of a team we are and who we can compete with."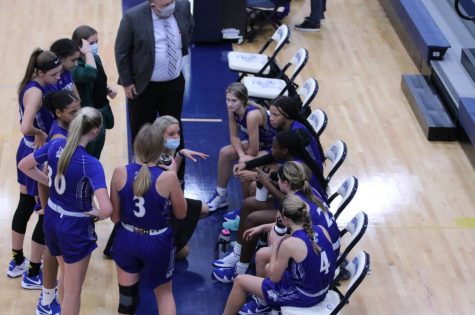 Carlie's clutch basket at the end of the game put the girls up by one point with only one and a half seconds left. The outcome of the game could have been much different if it were not for Vick's offensive aggressiveness and defensive toughness.
This 42-41 win over Webster will move the girls basketball team to #2 in small schools, and it will also make for an interesting rematch at the upcoming Visitation tournament. The girls are eager for their upcoming matchups and are looking forward to seeing Webster again in the future.