Playing With Masks
With the new mask requirements, WCA athletes learn to adapt.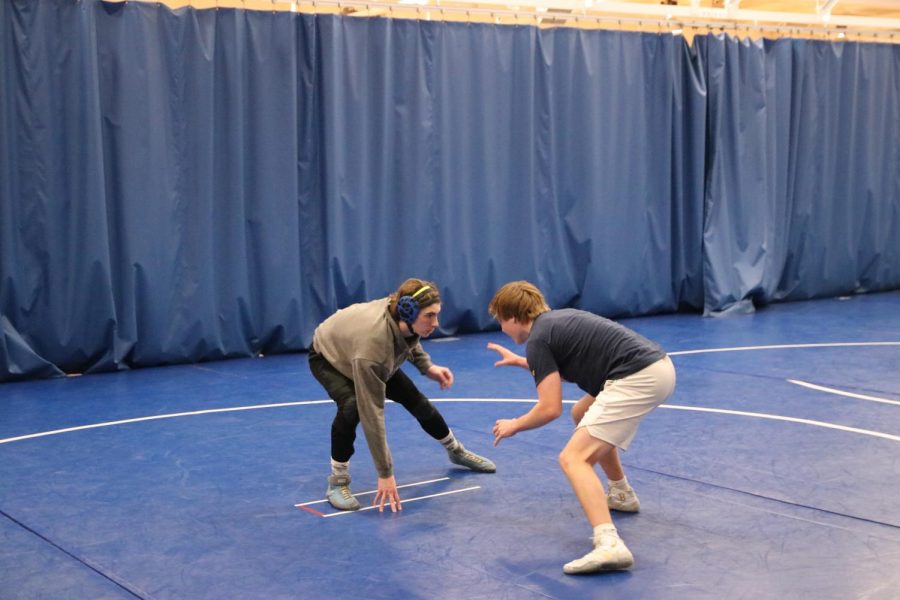 In accordance with the recent COVID-19 guidelines, student athletes in St. Louis county are required to wear masks while competing in most high-contact sports. Several of Westminster's top winter athletes have thoughts regarding how they feel about the new mask requirement and how masks add to the difficulty of already taxing games and practices.
The wrestling team has arguably been hit the hardest by COVID-19 because it is one of the most high-contact sports in existence. This had led to cancellations of meets and great uncertainty on whether there will even be competition outside of practice. On top of that, the wrestlers now have to wear masks to wrestle even in practice, which makes it very difficult to breathe during physically demanding matches.
Brett St. John, senior, who was a state qualifier on the wrestling team a year ago, is not happy with the St. Louis county mask requirement during sports.
"I find that the mask requirement is entirely impractical, especially in the case of wrestling. As it is already a full contact sport, wearing a mask would make no difference in the spread of COVID if a wrestler were to have it. In implementing a mask requirement, a sport that already requires tremendous physical exertion has been made significantly more difficult. Overall, I believe a mask requirement is a greater risk to our health than COVID itself," said St. John.
Another winter sport that has been greatly affected by the mask mandate is basketball.
Casen Lawrence, junior, who has starred on the boys basketball team since freshman year, is grateful to even be able to play at all. At some points during the year, it seemed very unlikely there would even be a season, and the team is determined not to let masks get in the way of their goals.
"Obviously playing in masks has been an adjustment for all of us and it has taken a little bit to get used too. The situation isn't ideal, but as a team we're grateful that we can play and have that opportunity because some people don't. It's an obstacle but we can't use it as an excuse and we just gotta play through it and focus on playing well and winning games," said Lawrence.
Likewise, Brooke Highmark, junior, who has also been a three year letter winner on the girls basketball team and is entertaining multiple division one offers, feels that masks take away one of the girls' best weapons: their ability to play at a fast tempo.
During a recent game, "rather than running in transition and constantly pushing the ball, which is one of our strong-suits, [our coach] told us to walk the ball up the floor, not pressure on defense, and she planned to call several timeouts throughout the game to give us a break," said Highmark.
This is because, according to Highmark, the masks make it difficult for the athletes to breath, and the resulting lack of oxygen makes them "physically tired drastically faster than [they] usually would," going as far to say that masks are "hazardous to many athlete's health."
Despite the difficulty of playing with a mask, Brooke echoes the same sentiment as Lawrence did and is thankful to be able to play at all.
"If wearing masks in both practice and games is the only way to continue having a season, I will take that risk any day of the week," said Highmark.
Unlike the other high-contact winter sports at Westminster, the hockey players currently do not have to wear masks during competitions, although some teams and players do anyway.
Brandon Swenson, senior forward for the Westminster team, feels extremely lucky for the comparatively relaxed mask-wearing rules for the hockey team.
"As of right now masks are not required while on the ice. Most rinks ask that we wear them on the bench but it's not mandatory. As of lately though they were made mandatory to wear in the locker rooms. I'm really glad that we do not have to wear them while playing because it would make it so hard to breath and play," said Swenson.