A Stud On and Off the Ice
A burst of energy fills the rink as soon as Harry Ottsen steps onto the ice.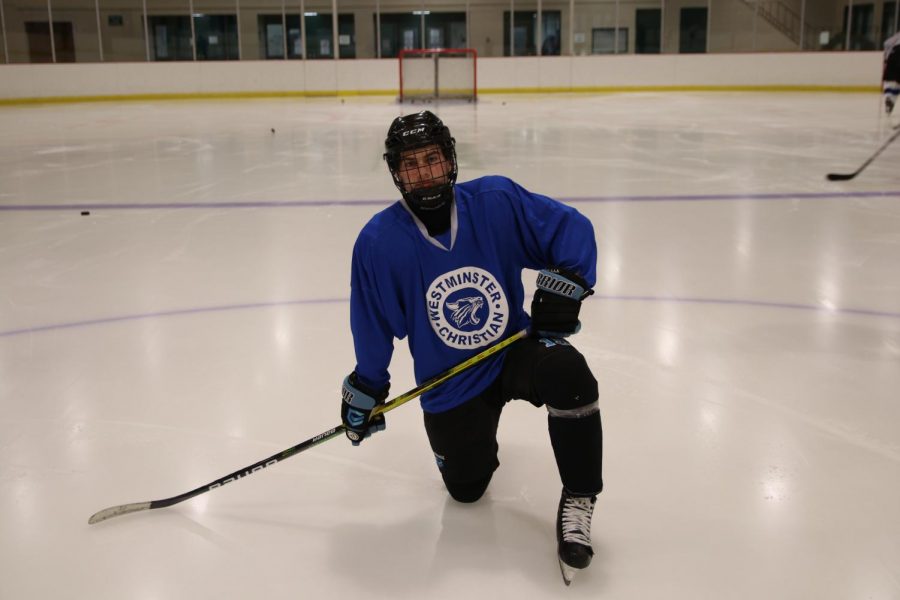 Harry Ottsen, junior, has played an important role on the team since freshman year, averaging about one point per game in his career. He is relentless on the ice, as he is always moving his feet and looking to benefit his team.
"He never lets up on the ice and we can always count on him to play strong through the entirety of the game," said Zack Kilgore, junior captain.
In addition to high school hockey, Ottsen plays for the U16 Carshield hockey team. They play in the NAPHL, an elite AAA hockey division. The team has faced some adversity this year, as they have already been quarantined twice due to covid protocols.
"Quarantine has been a blessing and a curse for our team, because a break from continuous games and practices is always nice, but we also need to stay in shape which is hard to do with the lack of play," said Ottsen.
Due to his club team's massive schedule of games and showcases, Harry misses a lot of school. On top of this, he has three to four club practices and two high school practices a week. For most students this would be a struggle, but Harry makes it seem fairly easy. He maintains a high GPA while taking two AP classes and two honors classes.
"It often comes with a lot of late nights and early mornings just trying to keep up with school," said Ottsen.
Ottsen also plays baseball in the spring season as a second sport. He feels that it is a good change of pace for him to not get burnt out of hockey. However, it does not do the best job of keeping him in shape for the hockey season; he often has to workout three times a week in the baseball season to stay conditioned.
He enjoys the sport, but hockey is his true passion. He has big plans of hopefully playing the sport at the next level.
"I hope to play juniors following my senior year, take a gap year between college, and then play college hockey at a small D1 school. It may not be easy, but I am willing to put in the work it takes to get there and achieve my goals," said Ottsen.
Ottsen's passion and drive is a leading force on the Westminster hockey team and will pave the way to achieving his dreams.