Out of County Game Allows Girls Basketball to Play Fast
Westminster won their second game of the season against St. Dominic over Thanksgiving break.
The Westminster girls basketball team opened their season at St. Dominic on Tuesday, November 24th. Initially, this game was supposed to be played at home, but with the new COVID-19 restrictions in the county, playing away allowed the athletes to play without masks. This change in location not only changed the atmosphere of the gym, but it also changed playing style.
Being able to play without masks allowed the girls to play how they have in the past: fast. Leading up to the season, the girls worked on playing slower in order to prepare for wearing masks, but playing at St. Dominic allowed them to play to their strengths, running the floor in transition and pushing the tempo.
While the first quarter was rather close, the girls went on a 26 to four run in the second quarter. As the game went on and the girls got more comfortable on the court, they were able to take control and play their own game.
"The first quarter was rough, but as the game went on we found our groove and were able to pull away and play our game," said Reilly Brophy, junior.
Brophy was one of the key contributors to the game last friday with thirteen points, eight rebounds, six assists, and three steals. Her consistent three point shooting helped catalyze the team's big run in the second quarter.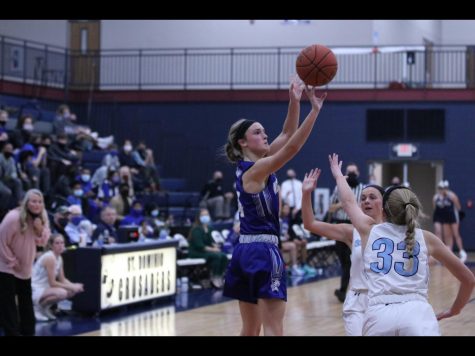 Another key contributor in the game was Brooke Highmark. With 24 points and a 60% field goal percentage, Highmark was able to lead her team to success. In addition to this, she had three assists and four steals. Her ability to draw fouls and play off of Carlie Vick, fellow club teammate and center, largely contributed to shutting down St. Dominic.
The girls ended the game with a comfortable lead, winning their second game of the season 65-42. The girls are hopeful for the rest of the season and are looking forward to their next game against Lutheran North on Tuesday, December 8th. The win against St. Dominic will give the girls some much needed confidence as they move forward and begin to play some more difficult opponents.