Culture and Leadership Lead the Way
The girls swim team is full of exceptional young women both in and out of the pool.
The class of 2020 left big shoes to fill, but just like every year, the preceding class will rise up.
Margo O'Meara, senior, will be very influential in the success of the team. She is a three time state champion and will be diving division one at Duke next year. Not only is she an elite diver, but she is a great leader in and out of the pool.
This year's seniors are talented, but they will have to rely on swimmers and divers from all grades to have a winning season.
"Most of our good swimmers are underclassmen. A lot of freshmen came out this year which is great" said Ashley Lytle, senior.
The swim team is competitive, but head coach, Kent Kehr, knows that success in the pool is not the most important thing. He has played an instrumental role in creating an enjoyable culture and environment that the team loves. He is admired and appreciated by all team members due to his character and evident love for his team.
"Coach Kehr is one of the main reasons why I swim. He leads the team in such an honorable and respectful way. He laughs with us and is our friend. But when it is time to swim, he pushes us to work hard" said Ashley Lytle, senior.
"All the coaches are so intentional and relational, but they also push me to work hard," said Caylin Doehring, senior.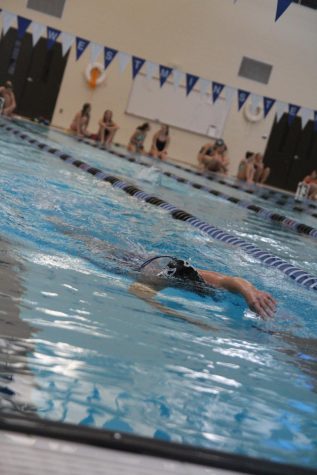 This culture Kehr and team leaders have created makes the team unique in their values.
"The swim team stands out because while swimming is about beating personal times and getting better throughout the season. It is also about building relationships and getting to know girls in other grades that I wouldn't know without swim" said Ashley Lytle, senior.
"The swim team allows girls to connect and build strong relationships because it is a bonding experience. Swim is not an easy sport, so being able to have close friends as teammates there to push you and relate to you makes swimming so much better" said Caylin Doehring, senior.
With the coaching of Coach Kehr and the leadership of Ashley Lytle, Margo O'Meara, and Caylin Doehring, the girls swim and dive team has a promising season ahead.