Girls Basketball Looks to Make a Statement
With strong leadership and unlimited potential, the team plans to make a run for state.
In recent years, the Westminster girls basketball program, led by Kat Martin, has encountered a shocking amount of success after experiencing several losing seasons in years prior. As they continue to get better due to their impressive amount of young talent, they continue to set higher expectations for themselves despite the doubt that many may have against them.
After coming in second at the district tournament last year, many of the players are determined to push themselves in order to make a run for state this year. With three out of five starters returning for this upcoming season, the girls are excited and hopeful for their future.
Some returning players, specifically Brooke Highmark and Carlie Vick, both juniors, have received many college offers. While their specialized positions are different, the offers in which both of them have received have been surprisingly similar. Both athletes have fielded offers from Tulsa, Lipscomb, and SLU. As the basketball season begins, it will be very interesting to see how both players go about their future college career.
This year, with much combined team talent, the girls are hoping to set, and reach, many of their season goals. Even though COVID-19 is constantly changing the way the season moves, the girls basketball team is determined to work through the adversity and win their conference, win their district, and make a solid run in the state tournament.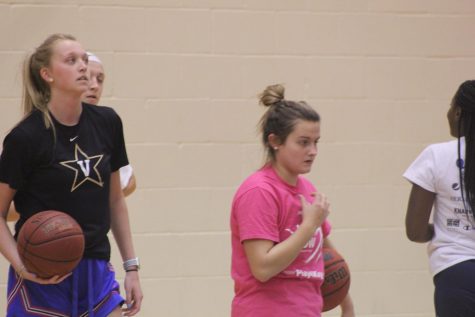 "The ultimate goal is a state championship, and this year that goal is not too far out of reach. We have so much potential, so I hope that through hard work and dedication, we can accomplish big things," said Marty Briner, senior.
Last year, the team had several great leaders that allowed the team to play as one cohesive unit and accomplish their goals. With four new players, Mia Scheulen, freshman, Lexi Vick, junior, Ashanti Boone, junior, and Hope Linam, junior, the team is excited to have a deeper bench and ingratiate these girls into the varsity program.
"Even though we have players spanning from freshman to senior, and several new additions, we are confident that the team chemistry will grow as the season progresses," said Reilly Brophy, junior.
Overall, the future of the girls basketball team looks bright for this upcoming season. With strong upperclassmen leadership and new assistant coach, Hannah Smiles, the team is ready to take on whatever the season brings.