Boys Soccer Defeats Principia
The boys varsity soccer team played Principia on Tuesday, September 29. They headed into the game ready to dominate, considering the history of victories against their opponent. However, the score was only 0-0 at halftime.
In the second half, the boys turned up the heat. The Wildcats ultimately defeated Principia 5-0 with help from Luke Laughlin, senior, Caden Collison, freshman, Jackson Keane, junior, Andrew Smith, senior, and Lincoln Chimento, senior.
Luke Laughlin was on fire against Principia, leading the team with a hat trick. Both Keane and Collison scored their first varsity goals to add to the victory against Principia.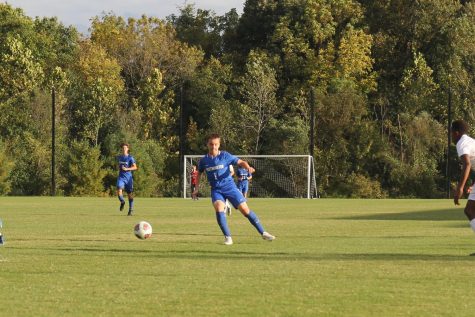 "It was exciting to play in my first varsity game and on top of that score in it too," said Keane.
After seven weeks of practice, the team was ready to play somebody besides themselves.
"As a senior, I was ready to start playing in actual games because this is the last time I get to play with the rest of the guys. And I'm glad that although it's a short season, that we still get to play," said Laughlin.