Tennis Owns First Wildcat Win of the Season
The girls tennis team works hard to prepare for Districts.
The girls tennis team has started the year off strong after defeating Ursaline in their first match of the season.
Girls varsity tennis looks forward to some new and challenging opponents this year due to the changing of class sizes. They hope to use these harder matches to prepare themselves for districts as they are highly favored to do well. 
Their sixth match of the season against Cor Jesu on September 21st contributed to another one of their wins and their momentum leading up to districts.
"The match against Cor Jesu wasn't that important in itself. However, we are using these matches as good experience and learning opportunities to be ready for districts, which do matter," said Hailey Colley, senior. 
Girls tennis has a collection of great players this year even after losing five seniors last year. Since the team has had longer to prepare for their season, they have gotten a lot closer with one another. 
"I think we've continued to grow together and get to know each other as the season has progressed. They are some of the best girls I've ever had on a team. We cheer each other on more and more every match, and we are always laughing and having a good time on and off the courts," said Hailey Colley, senior. 
Even though COVID-19 was a temporary setback for the team, they are one of the only teams currently playing at Westminster. On top of that, they are winning most of the matches they play. Playing together as a team is what matters to them above anything else, and they would like to play as many games as possible in order to achieve their goals. 
"Some of my own and team goals for the rest of the season include putting forth a full effort daily, keeping a positive mindset and attitude, and uplifting the spirits of my teammates," said Ava Hornburg, sophomore.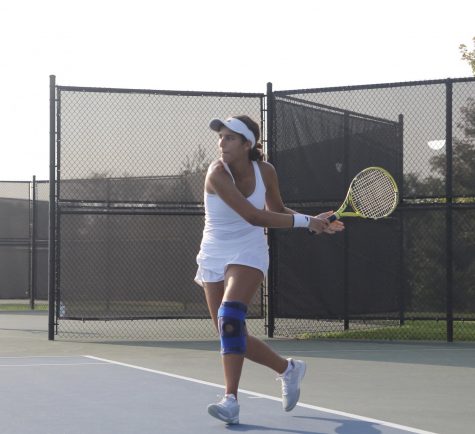 Being one of the first teams able to play as well as succeed this year has put the girls tennis program in the limelight for WCA athletics. The team looks forward to working hard, growing closer as a team, and preparing for Districts by continuing to dominate their opponents.