Senior Bennie Anderson Chooses Yale, Plans to Double Major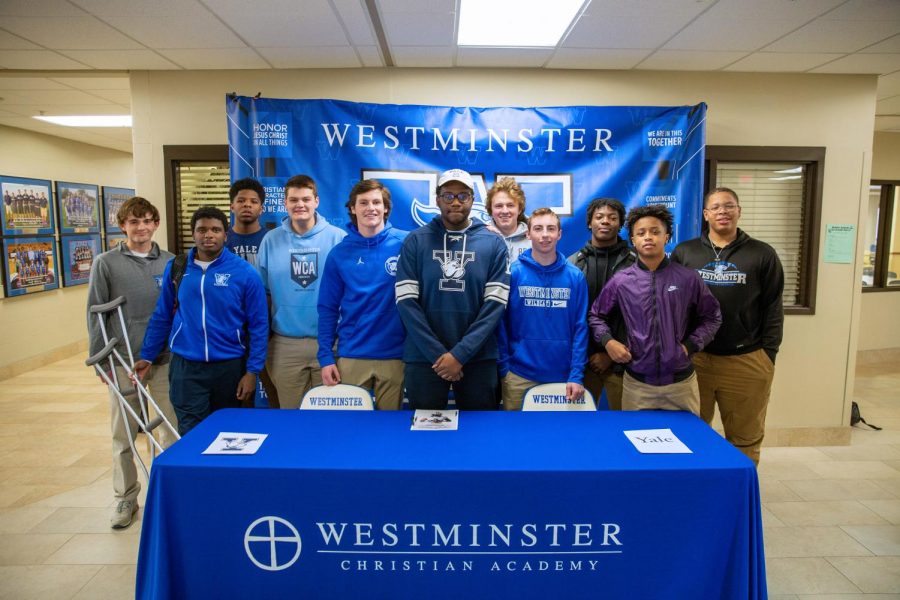 Three-sport athlete and exceptional student, Bennie Anderson, has been nothing but dominant throughout his time at Westminster Christian Academy. Bennie has both excelled in the classroom, with a 3.7 GPA, and on the football field, earning several honors as an offensive lineman. He was selected for the Missouri media all-state team and MaxPreps all-state team, and he is the first three-star recruit in Westminster football history. Bennie will be attending division one Yale University this upcoming fall on a full-ride football scholarship.
Anderson's uncommon work-ethic can be attributed to the majority of his success. He can be seen on the Westminster campus as early as 5:45 in the morning, lifting weights and working on his game. This kind of intensity, hard work, and sacrifice has led to a multitude of scholarship offers from a variety of colleges. Bennie has received a total of 31 division one offers, including top-notch schools such as Yale, Air Force, Brown, Arkansas State, and many others.
"It all started in November of my junior year. I got my first offer from Morehouse College, but it didn't really pick up until January when I got my first D1 offer from the Air Force Academy. My final 5 schools were Air Force, Yale, Brown, Columbia, and Georgetown," said Bennie regarding the recruiting process. While each school was considered, in the end, he made the decision to sign with Yale University.
"I felt like Yale would allow me the most freedom to pursue what I wanted to do academically, while also giving me the opportunity to play football at the D1 level," said Anderson.
When it comes to his success in the world of football, Bennie displays constant humility\; he often credits those around him, specifically his dad. Bennie's dad, Bennie Anderson Sr., played in the NFL for six years and plays a large part in both Bennie's achievements as a football player and his exceptional character.
"My dad has pushed me to be better than what he was. He helps me to be the absolute best at whatever I can and give everything I can in every aspect of my life. I am very thankful for him and all that he has done for me both on and off the field," said Anderson.
While Bennie's main focus is on football, he is also a member of the basketball and track and field team at Westminster.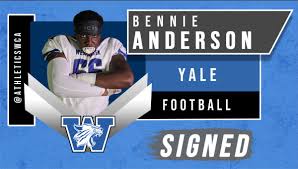 "Being a three-sport athlete has helped me to become better at budgeting my time, but it has also provided me with an opportunity and an outlet for my competitive spirit. I would also say that it's helped me stay humble and has shown me the value of hard work and effort," said Anderson.
Lastly, Bennie additionally credits a lot of his success to the Westminster community and the positive environment that has surrounded him throughout his high school career.
"Going to Westminster has been an amazing blessing and a fundamental part of why I've been able to get to where I am now. I'm so lucky to have been able to attend this amazing school for high school and middle school. The teachers, faculty, and administrators have allowed me to grow and become a strong man and have prepared me to make an impact on this world for Christ," said Bennie.