Westminster Alumni Lead Mizzou to Fight For a Cure
Columbia, MO: In a place where people so often forget to stay involved in their community, five Westminster alumni and current Mizzou students combat this trend through an organization responsible for starting fights. 
Westminster graduates Zach Shultz (Class of 2016), John Pottebaum (Class of 2016), Thomas Shultz (Class of 2019), Keaton Greiwe (Class of 2019), and Collin Clark (Class of 2019) have been working tirelessly for the past few months to organize Fight Night MIZ, one of the largest philanthropy events at Mizzou.
Zach and John were members of the original Sporting WCA, and Thomas was the editor of Sporting last year.
Fight Night for Pediatric Cancer Research LLC is a company that hosts an annual boxing event at Mizzou where all proceeds go to help the families suffering from pediatric cancer and to fund research for a cure. This year's event will take place on March 14 at Mizzou's Hearnes Center, and consists of 11 three round boxing matches.
The whole thing started 4 years ago when a group of Mizzou students, including Zach Shultz and John Pottebaum, created Fight Night as a fraternity philanthropy idea. The event immediately took off, raising over $10,000, $20,000, and $24,000 in each of the first three years, indicating that Fight Night needed to become an independent company to reach its full potential.
So this year, the committee created an LLC with Zach Shultz as COO and John Pottebaum as the Marketing Director. They also brought on freshmen Keaton Greiwe as Head of Ticket Sales, Thomas Shultz as Fighter and Business Relations, and Collin Clark for Apparel and Merchandise. Greiwe and Shultz are slated to take over the company next year as CEO and COO respectively; they'll be the first non-seniors to hold the positions.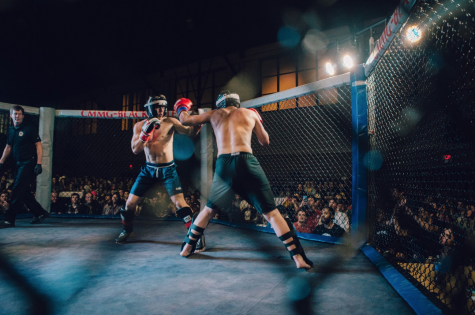 "Fight Night is in a great spot right now with a real opportunity to continue to grow," said Greiwe, "We have a new venue this year that tripled our capacity, and we hope this allows the whole community from St Louis to Columbia to rally around finding a cure."
Every year this goal becomes closer to reality as more and more companies reach out to sponsor, from small ones in Columbia to national ones such as Hot Box and Insomnia Cookies. Fight Night Company has also explored the possibility of extending to other campuses, such as KU and Missouri State.
"Obviously the goal of Fight Night is one day we can defeat pediatric cancer for good," said Thomas Shultz, "and if that means spreading to other schools, we'll reach out and continue to work in the ring for those fighting everyday outside it."
Westminster students are invited to attend this night in Columbia on March 14. For tickets or more information on Fight Night and how to get involved, check out https://www.fightnightmiz.com/ or on Instagram @fightnightmiz.