Girls Basketball Defeats Borgia in District Semifinal
The girls basketball team started on their road to state with a nail biting win against Borgia. The final score was 63-57.
The Wildcats faced Borgia last Tuesday to finish their regular season. The Wildcats won handily by a final score of 49-24. As the Wildcats prepared, they hoped to come out with the same intensity and turn the lights out on Borgia's season. However, they knew Borgia was going to bring their very best game and they were going to have to work hard and earn the chance to win a District Championship.
The game started off promising for the Wildcats with senior Carsyn Beachy hitting a tempo setting three pointer in the wildcats first possession. Borgia was hungry for a win and were not going down without a fight. The first half passed in a blur of soft fouls, missed free throws, made three pointers and great cuts for the cats. Due to getting offensive rebounds and making uncharacteristic shots, Borgia stayed in the game after the first half, trailing by just seven at 36-29.
At halftime, emotions were running high because both teams knew this could be the end. The third quarter was rough for the Wildcats. They sent Borgia to the line with soft unnecessary fouls. Almost every time Borgia shot from the paint, the Wildcats fouled. From the line, Borgia gained momentum and slowly closed in on the Wildcats' lead. The Wildcats strived to stay patient and poised in order to regain their lead. Borgia seemed to have all the momentum as Borgia nailed a three off the backboard. But Brooke Highmark responded. She took over the fourth quarter and simply put the game out of reach. Macey Lottmann had a basket, but otherwise, it was all Highmark all the way. The final score was 63-57. Highmark finished with 27, a tie for her career high.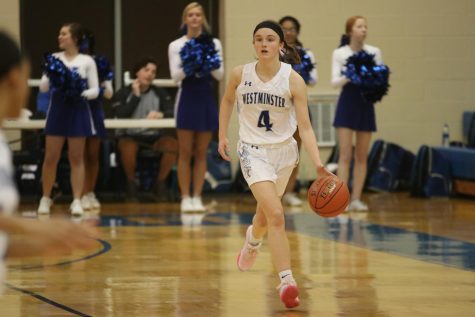 The difference in the game was the determination and emotions that come with postseason play. It's win or go home, so every team is bringing their best game. Borgia had different players step up and make a difference. Some shots went in by what appeared to be pure luck, including the banked three pointer.  
The girls play on Thursday night at 6 PM, immediately before the boys, for a District Championship against Rockwood Summit.