Distance Runners: Where Are They Now? Part II
In Part 1 of Distance Runners: Where Are They Now?, we caught up with the Everett brothers covering their experience of running in college and their life today. In this edition of "Distance Runners: Where Are They Now?," we will focus on four runners that are currently competing at the college level: namely, Laura Tarantino, Brendan Yeager, AJ Lloyd, Xander Smith, and Brendan Grbcich.
A two-time state qualifier in cross country and track respectively, Brendan Yeager, from the class of 2015, is one of the best runners to compete at Westminster. He holds a spot on the top 10 record board for cross country and has high school personal records of 1:58.07 in the 800m and 4:36.99 in the 1600m.
"Running at Westminster impacted me greatly. Mr. and Mrs. Meyer were tremendous in building a fun track and field program that had a lot of success. It was really amazing how they encouraged us and pushed us to get better. I learned a lot from them on how to be a better runner," said Brendan. 
Certainly, Yeager's interest in running was cultivated by competing for such strong cross country and track programs led by the Meyers. For a decade or more, Mr. and Mrs. Meyer have been coaching cross country and track at Westminster. Following the 2017 Cross Country season, Mr. Meyer stepped down from being Head Boys Cross Country coach. However, Mrs. Meyer continues to coach girls cross country and track. 
Over the years, they have built a legacy of excellence in Westminster's cross country and track programs. In fact, they have coached and mentored almost every runner in these articles. They have brought their teams to success through a focus on running form, recovery, and consistent training all year long. Yet, they never let their teams lose sight of what is truly important in life. Leading the team in devotions, they kept the team focused on striving to glorify God in they all do and be a steward of the talents he has given them. 
"[The Meyers] were great and helped make it a great experience.  Also, the team could be very goofy and fun to be around. There were many characters on the team that lightened the mood. The team bonded, and coming to practice was something that I looked forward to," said Yeager.
During high school, Brendan Yeager's athletic focus was more diversified than just running. He also was a force to be reckoned with on the soccer field. Even though he had done track since freshman year, he didn't compete in cross country until his junior year when he participated in both sports in the fall. Needless to say, competing in two sports in one season is very difficult. However, incredibly, Yeager was able to do well in both. 
After high school, Yeager went to school at Covenant College in Lookout Mountain, Georgia. First, he played collegiate soccer for two years before deciding to run cross country and track instead. So, last year as a junior, he ran middle distance during the indoor and outdoor seasons. 
"Transitioning to track after playing soccer was not that difficult for me in college because that was something that I was used to in high school going from soccer season into track season. Overall, I enjoyed playing soccer here at Covenant, but I realized that I could have more success in running, and I believed I would have more fun running," said Yeager. 
In his first season running track, he ran very well. He ran a program record in the outdoor 800m with a time of 1:58.83. Also, he ran on the 4x400m, 4x800m, and DMR relay teams that all set program records this past outdoor season.
"Running track though has been great. I like traveling to different schools and competing. You are always challenged because there are a lot of fast runners to compete against, and also my team really pushes each other to get better," said Brendan.
Without a doubt, Laura Tarantino, from the class of 2013, is one of the most talented distance runners to ever wear the blue and white. In cross country, she qualified for state three times and won Districts once, and she holds third place on the all-time record board for the 5k with a time of 19:27.00. In outdoor track, she made it to Sectionals three times–once in the 1600m and twice in the 3200m. Also, one year, in the 3200m, she went on to compete at the State meet. Some of her more notable times on the track were running 11:50.33 in the 3200m indoors, 5:30.74 in the 1600m outdoors, and 2:32.36 in the 800m outdoors. 
Throughout high school, Laura certainly had success in running, but more importantly, she learned a lot from the experience as Westminster always emphasizes glorifying God and being a steward of His gifts.  
"Running at Westminster was an awesome introduction to running! I had some awesome coaches! Coach Ammen, Coach Mrs. and Mr. Meyer come to mind. I think the important thing was that I learned to love running. This stayed with me. I think that my coaches were intentional about teaching us about athletics as a way of using gifts and opportunities you have to pursue excellence to glorify God, not merely to be the best," said Tarantino. 
After high school, Laura attended Truman State University to study nursing as well as run cross country and track. First, she benefited from great coaches and teammates as well as a training program that worked for her.
"Performance wise, I was able to improve my 5K personal record from 19:27 in high school to 17:34 in college. I was pretty excited just to be a part of the team and be doing well. I also was introduced to some longer track races, which I enjoyed. The important thing was that I learned to love running even more and enjoy the training process," said Tarantino.
Dropping nearly two minutes of time in the 5k going from high school to college running is an incredibly unusual, and impressive accomplishment. Additionally, through the training plan at Truman, she continued to improve and had some incredible team and individual performances. 
In the Great Lakes Valley Conference Cross Country Championship in 2016, with Laura leading the team by placing 5th individually, the team finished in 5th, exceeding their own coach's expectations. The team placed higher than they ever had at Conference.
"Things came together and everyone had a good day at once — which is sometimes hard to have happen! Coach owed us a spaghetti dinner because of a bet the team made with him at the beginning of the season, so that was a fun memory," said Tarantino. 
Individually, for her senior year of outdoor track, Laura finished in 1st place in the 10k and 2nd place in the 5k at conference. However, despite her strong efforts, she hadn't hit the qualifying time for nationals.
"About a week later, my coach entered me in a "last chance" meet in Chicago to try to get my best time down in order to qualify for Division 2 NCAA National Championships in the 10k in May. The time I had to hit was a little faster than I had been running, but it was an incredible night and a wonderful race. I still remember the feeling of that it was "now or never," hearing my coach yell out split times and thinking, "This is happening, I've just gotta hang on." I crossed the line totally spent but well under the time I ever thought I could run, it was an amazing culmination of the past 4 years. I ended up placing 14th at Nationals; it was cool to be there," said Tarantino.
During her years at college, she did experience a lot of highs, but she also had her fair share of lows. Yet through the adversity and challenges she faced she learned a lot and grew closer to God. 
"Sometimes it was really hard not to put pressure on myself to do better. Sometimes I struggled with feeling inadequate, but I had a lot of support from my family, coach, team, and friends. It was a good place to learn to overcome some disappointments, to place my identity in Christ instead of my place in a race or my best time. I would encourage anyone who loves running to keep at it and be patient! The process takes a long time, but the learning along the way can be really important," said Tarantino. 
After receiving a nursing degree from Truman State University, Laura worked as a nurse for a year, but she decided she hadn't had enough school and opted to go to medical school.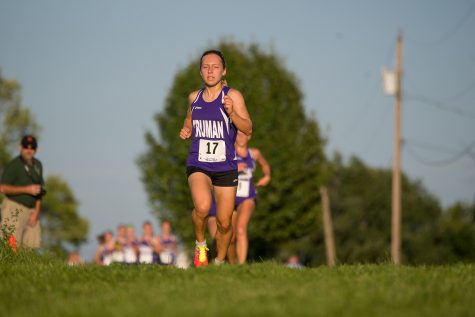 "I am a second year medical student at Creighton University School of Medicine. I run about 6 days a week, and I am a part of a local track club here, Lincoln Running Company Nebraska, with a classmate/roommate. I still run some races and half marathons — still competing, though the mindset is a little different, as school work takes up a much larger role than it ever has! It is really a gift as it keeps me healthy, sane, and happy," said Tarantino. 
In fact, as she continues to enjoy running outside of high school and college competition, she has met back up to run with one of her old high school teammates. 
"Last month, I ran with WCA alum Julie Sharp (now Julie Brown). She was a senior when I was a freshmen, so we ran together in 2009-10! We both live out of state now, but it is fun to still keep in touch a little bit and run every once and a while when we are back in St. Louis," said Tarantino. 
Another superb Westminster distance runner, AJ Lloyd, from the class of 2018, was also a soccer player like Yeager before switching over to cross country. For his first two years of high school, AJ played soccer in the fall and ran track in the spring before switching over to cross country his junior year. Looking back on it, he made a good decision. 
During both his junior and senior year of cross country he was All-State in Class 3, and for his senior year, he placed first at Districts. In track, he was a two-time State qualifier in the 1600m and a one-time qualifier in the 3200m, and as a senior finished first in the 3200m at Districts. Also, some of his more notable personal records are 4:27.68 in the 1600m, 9:49.59 in the 3200m, and 16:21.00 in the 5k for cross country.
Currently, AJ is in his second year of competing at the competitive Division III school, Rensselaer Polytechnic Institute in Troy, New York. 
When speaking on the transition of high school running to college, Lloyd said, "The transition was not too easy. A lot of mileage and aerobic work tested me in ways I hadn't been tested before."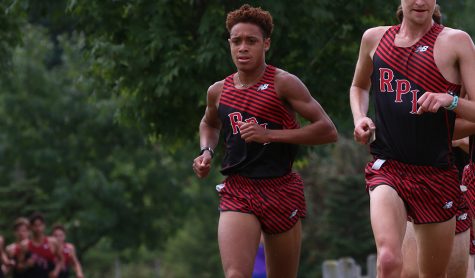 As AJ has been adjusting to the rigors of collegiate student-athlete life, his team has excelled on the national stage and continues to improve each year. 
"My team has only been getting better. Last we finished 14 and this year we finished 10th. Also, we had about 7 people (guys and girls) qualify for nationals in track the past two years," said Lloyd. 
Also from the class of 2018, Xander Smith was one of the hardest workers and most consistent runners to compete for Westminster. In cross country, he competed along with the team three times at State and was All-District twice. Some of his best times in high school were 17:20.74 in the 5k and 10:34.30 in the 3200m. 
During his time at Westminster, he was part of one of the best cross country teams to come through the school. Being apart of such a strong brotherhood of runners fostered a love for the sport that Xander has to this day. 
"There were a lot of reasons and motivations for why I started running. I started taking running seriously at the end of my freshman year. There was great team work ethic and camaraderie all the time at Westminster which made it easy to carry that over to college," said Smith.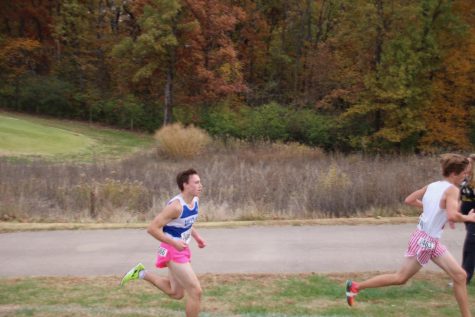 After high school, Xander went on to run cross country and track at Olivet Nazarene University in Bourbonnais, Illinois. Because of the work that he put in during high school, the jump to running at the collegiate level was much smoother. 
"The transition from high school running to college wasn't a huge transition for me in part because of the training that Coach Meyer had us do for cross country. I had done a decent base of mileage in terms of miles per week, so that wasn't too different besides doing maybe 10-15 extra miles per week," said Smith.

Out of all of the runners out there, there are not many that have the same work ethic as Xander. Whether it's doing strength, core, solving rubix cubes, running, Xander always gives his best effort. Because of his dedication, he has cultivated success in the college ranks.
"I have always had the drive to be the best that I can be as a runner, and that has kept me going in college. I had a good first two cross country seasons. I ran around 28 minutes for my first season as my PR and then dropped from there to 27:45 this season. I'm excited to see where we will be as a team next season since we have a lot of talent and people in my grade," said Smith. 
Yet, another great runner from the class of 2018, Brendan Grbcich, has gone on to compete for Missouri Baptist University. During high school, he worked extremely hard in both cross country and track for all four years. He was a great asset to the 4x400m and 4x800m team and holds the personal records of 2:00.93 in the open 800m and 55.74m in the open 400m.
Thanks to being apart of the strong culture of discipline and excellence intertwined into the Westminster cross country and track programs, Brendan developed a passion for running and through it has learned numerous life lessons. 
"My time with WCA track and cross country impacted me quite a bit. I felt like running is such a great opportunity to grow as a person. Through running, I have learned how to be patient because even when my body feels like death, and my senses are screaming at me to slow down or stop running, I need to be patient and tell myself to keep going and push through if I want to reach my goal," said Grbcich.
In his second year of college, Brendan has adapted well to college life as a student athlete enjoying the extra free time of college and taking up cooking along the way. After running his freshman year, Grbcich is currently dealing with an injury that has kept him out of running for a bit. However, he will continue to be patient and keep working hard in the next years of college to come. 
In all, there have been many talented distance runners to walk the halls of Westminster and go on to do great things at the collegiate level. Yet, no matter where they go, the emphasis that the Westminster Cross Country and Track program puts on striving to glorify God and keep our lives centered on Him never leaves them. In the future, more gifted athletes will leave 800 Maryville Center Drive and go on to change the world for Jesus Christ. However, even though they will leave Westminster, Westminster will never leave them.