The Best Time of the Year: Spirit Week Preview
It's almost that time of year again. Spirit Week. The week builds community, but it's centered on all-out competition between every grade. It's the best school week of the year for many students. When it's all over, you get feelings of exhaustion as well as nostalgia deep in the pit of your stomach. 
Each day at 2 PM, there will be an assembly of the entire school. There will be games, there will be performing, there will be lots of noise, and there will most certainly be some controversy, too. 800 Sporting, of course, will be there to cover it all. 
Last year, it was Ultimate Chicken that generated all the talk. In the championship match between the juniors and seniors, some questionable calls tilted the game in the seniors' favor. Although 800 Sporting's article outlining the missed calls generated more disagreement, it was the fact that the entire school was talking about some high schoolers tossing a stuffed animal around a basketball court that made everything okay. 
It's completely trivial, but we all treat it like a turf war. Where else can you scream and yell when your team pulls someone across a gym floor on a blanket faster than all the other teams? When else are you going to have the opportunity to play "Floor is Lava" like you're five years old again?
After five days of dress up and assemblies, last-minute Film Project tweaks and dance practices, and Community Night, the week will conclude with Spirit Night. This evening is the Mother of All Westminster Sporting Events. The Blue Crew will be in full force as the girls and boys basketball teams compete before the entire school. Every student is invited to attend the Spirit Night game. The Arena's Blue Crew section will fill up long before tip-off, and you'll see the loudest, rowdiest group of blue-and-white-clad teenagers you've ever seen. 
After the game, the top two Lip Sync and Boys Poms performances will be invited to perform their routines one last time as the reality sets in that it's all finally coming to an end. At the conclusion of the evening, the winner of Spirit Week will be announced before the crowd.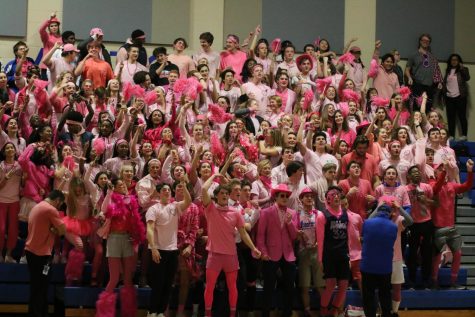 And just like that, it'll be over. The Seniors will never have another Spirit Week. That's hard to imagine. Underclassmen, savor it. There are a maximum of thirty Spirit Week days in your Westminster career. Each one is unique in some way. 
Go experience something different. Take part in the TP Wars. Come to the Spirit Night Game. Go help with Art Board in the evening. You'll love it. It doesn't matter who you're with or if any of your friends are there. Because for one week, and even if only for just this one week at the end of January, your grade is one big community.