Girls Basketball Takes Third Place in Wildcat New Year Shootout
The girls basketball team took third place in the Wildcat New Year Shootout this week after going 2-1 as hosts of the tournament.
In the second annual playing of the tournament, the Nerinx Hall Markers, a team Westminster has already beaten this season, emerged as the champions of the tournament.
The Wildcats started off as the two seed and took on Duchesne High School. In an uncharacteristically poor shooting performance, the Wildcats defeated the Pioneers 37-21 to advance to the next round. Carlie Vick and Julia Coleman led all scorers with eight points apiece.
In the semifinal round, the Wildcats took on Gateway STEM, the six seed, who had previously upset Cor Jesu in the first round. The Wildcats thought they would just have to deal with Marshon Bostic, Gateway's best player, but that turned out to not be the case. Rebounding was the story of the game as the Wildcats fell by a score of 51-46. Gateway STEM grabbed 41 rebounds, including 25 on the offensive glass. The Wildcats watched helplessly as their opponents received unlimited chances to shoot.
Coming into the tournament, it was understood that it would be championship or bust for the Wildcats. This loss was a punch in the face, but the Wildcats would have to play again the next day.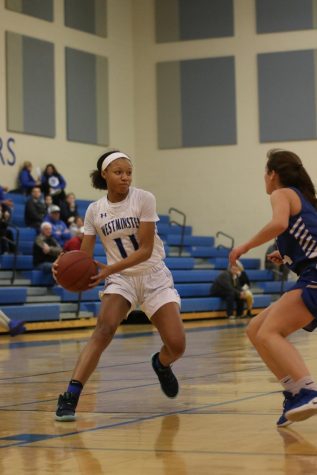 In the third place game on Wednesday, the Wildcats took on one seed Oakville, who'd lost to the eventual champion Nerinx in the semifinal round for their first loss of the season. The Tigers had size and speed, but the Wildcats dominated from the outset. They jumped out to a 31-8 lead in the first half before leading 31-14 at halftime. 
The Wildcats cruised to a 53-31 victory. This was a bounceback win for a team that had lost three of its last five games. Brooke Highmark got herself back on track as she more than tripled the next leading scorer of the game with 25 points. Third place was little consolation for a tournament that the Wildcats should've run away with, but a dominating win over Oakville is representative of the high-caliber team the Wildcats can be. 
The Wildcats have 14 games remaining on their regular season schedule, and they'll get into it on Friday evening with a home matchup against MICDS.