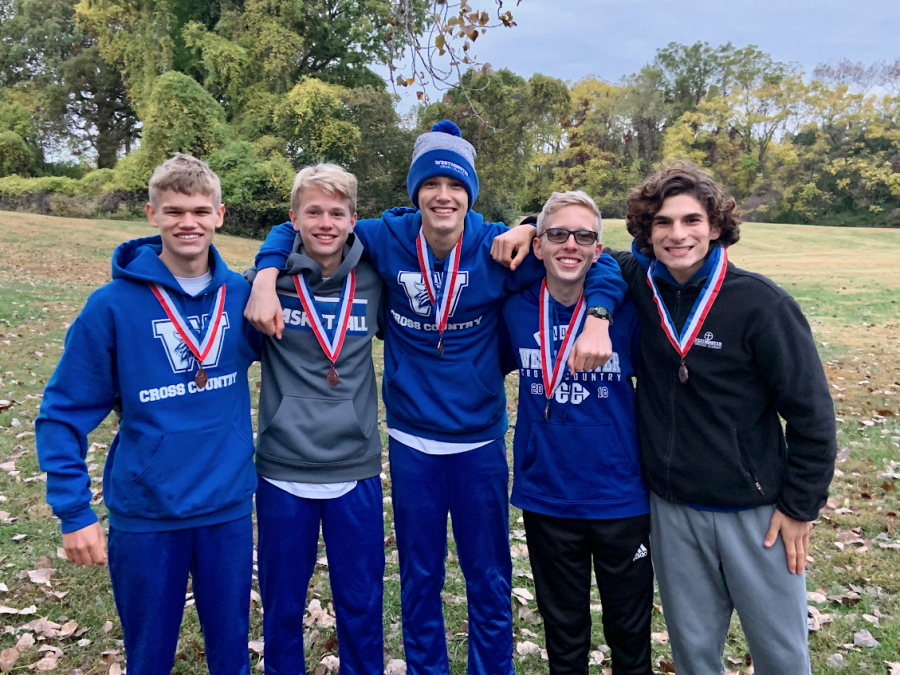 The Hard Work Has Been Done: Boys' Cross Country Districts Preview
October 31, 2019
On Thursday, Oct. 24, the boys' cross country team cruised to victory as they won the Metro-Conference championship. The top five boys on the team all placed within the first 12 runners in the race. Westminster scored 36 points, beating the next closest teams, John Burroughs (80 points) and MICDS (84 points), by an impressively wide-margin. In fact, West Newsmagazine even covered the team's win in a recently published online article.
"Our goal at the Metro League conference meet was to run our very best and win the team race. On paper, we could win by 20 points or so, but you never know how you'll do compared to the competition until it's all over. We can't control how the other teams will run, but we can control how we do. With a champion's mindset, we ran really well, 44 points ahead of second place," said Coach Nile Heefner.
Junior Hunter Freiner placed third in the race and first among the team, and after the strong performance, he has set his focus on the district meet coming up this Saturday at Linn High School.
"The Conference meet was kind of a trial run for districts in seeing what we could do as a team. In all, coming into districts, the team morale is pretty high. We have a great team this year, and we are just hoping for the best," said Freiner.
On Saturday at 11:55 AM, the boys will line up at the starting line alongside 13 other teams in competition for a district title and a chance to compete at the state meet the following Saturday. Only the top two teams will make it on to the next round. For the rest, the cross country season will be over. According to the running statistics website, MoMileSplit, the team is predicted to finish first out of district. However, the boys are locked in on what needs to be done, not what could happen.
"Our mindset going into districts and hopefully state is be mentally focused on doing our best at everything we do. Whether it's in practice or the classroom, healthy eating or our sleep habits, and our relationships with people or God, we strive to be our best," said Coach Heefner.
In all, the team has worked hard all season in training their bodies to be in tip-top shape for this weekend and the next. They have run long distances and fast repeats. They have sweat through the blistering heat of August as well as the cool days of October. So, as November approaches and the temperatures drop even more, hopefully, the boys' times will drop, too. After all, the real work has been done. Now, all they need to do is leave it all out on the course.