Softball Wrap-Up: Thank You Seniors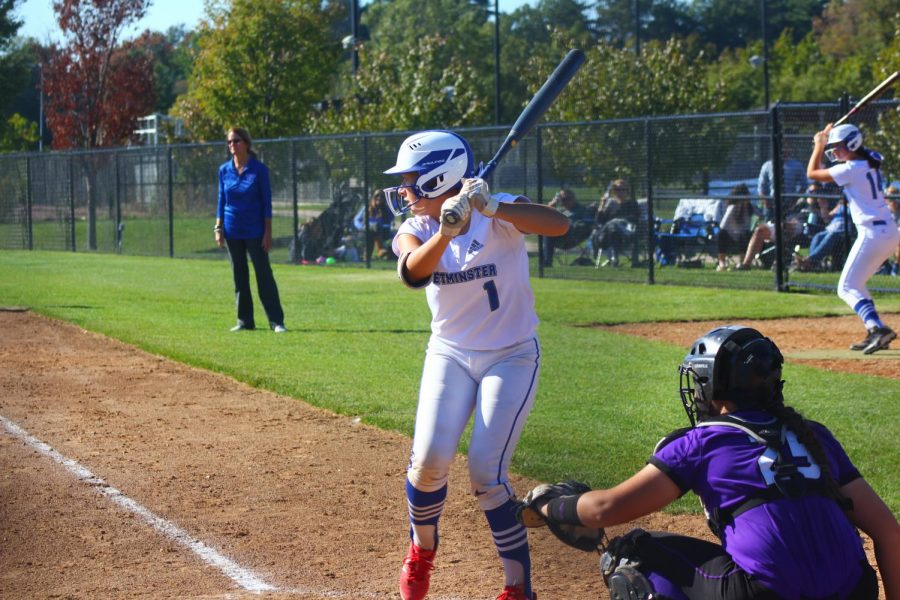 In a game consisting of loud fans, dominant pitching, and clutch hitting, the Westminster softball team came up short against the Parkway North Vikings, putting their record at 10-11. The final score was 13-6, thus ending the 2019 season for them.
The softball program says farewell to four seniors who were crucial to the success of the season. Those seniors are Lauren Gates, Reese Earleywine, Katie Hobaugh, and Carsyn Beachy.
Lauren Gates, catcher, is a player who started playing on the varsity team in her freshman season. In her first year, she didn't hesitate like most freshmen, but rather she hit .571, leading the team in hits. She hit .443 the next year, once again leading the team in hitting. In her final two seasons, she took on the role of more of a power hitter, hitting around 20 RBI's in both seasons. She ended this senior year season with five home runs and a slash line of .469/.514/.984. She also ended the final game with a huge base clearing triple to put the Wildcats three runs away from tying the Vikings. The crowd went bananas.
Reese Earleywine, much like Gates, started playing on the varsity team as a freshman and started to take control as a sophomore, leading the team with 23 RBI's and hitting half of the home runs that year. In her junior year, she started to take the role of a solid number three hitter, and, once again, drove in the most runs on the team. And finally, in her senior year, she had one of the top batting averages in the area, hitting just north of .500. As far as next year goes for Earleywine, she will continue to lace up her cleats and play softball at The University of Southern Mississippi.
Katie Hobaugh, second baseman, saw softball as foreign territory in her freshman and sophomore year. In her junior year, the team had a shortage of players and was in desperate need of a second baseman. After much convincing from Coach Petke, Hobaugh decided to play for the softball team. In her first year, Hobaugh cracked the starting lineup and got her first hits in the third game against Rosati-Kain. Hobaugh had a handful of multiple-hit games and decided to play again in her senior year. In this recent season, Hobaugh had the third best batting average on the team (.450) and also drove in the third most runs (17). Obviously Hobaugh's most memorable moment of this recent season was her first ever home run against Parkway West and driving in four of the eight runs to get the eighth win for the Wildcats on the 2019 season.
Carsyn Beachy has a similar story to Hobaugh, not playing softball until her junior year of high school. Beachy has athletic experience as a crucial member of the girl's basketball team, but softball was a little different. In her first season, Beachy worked her way into the starting lineup, driving in nine runs and getting 13 hits. In that season, Beachy hit a huge triple in the game against Lutheran St. Charles, giving her a third extra base hit on the season. In her most recent season, her batting average, on-base percentage, and slugging percentage improved substantially from a .153/.265/.220 to a .234/.321/.362. Once again, Beachy raced her way around the bases for her second career triple in the win against Parkway West.
To all four seniors on the Westminster Wildcat softball team, 800 Sporting wishes you the best of luck for your future endeavors.
As far as next year looks for Coach Petke and the softball team, plenty of hope lies in freshman Gabby Merrifield, who is looking to make her second season being the starting pitcher for the team, and even add a few more home runs to her current total (two). Nicki Mabry will be going into her senior year and will surely be a crucial component to the 2020 fall roster. Other returning players for the team include Dyamond Clay, Marty Briner, Victoria Fuller, Sami Mabry, Hope Linam, Jadyn Patton, and Grace Yost.
With the returning players and the young talent that is coming up in the program, there is hope for future seasons for the Westminster softball team.
Signing off…until next fall.