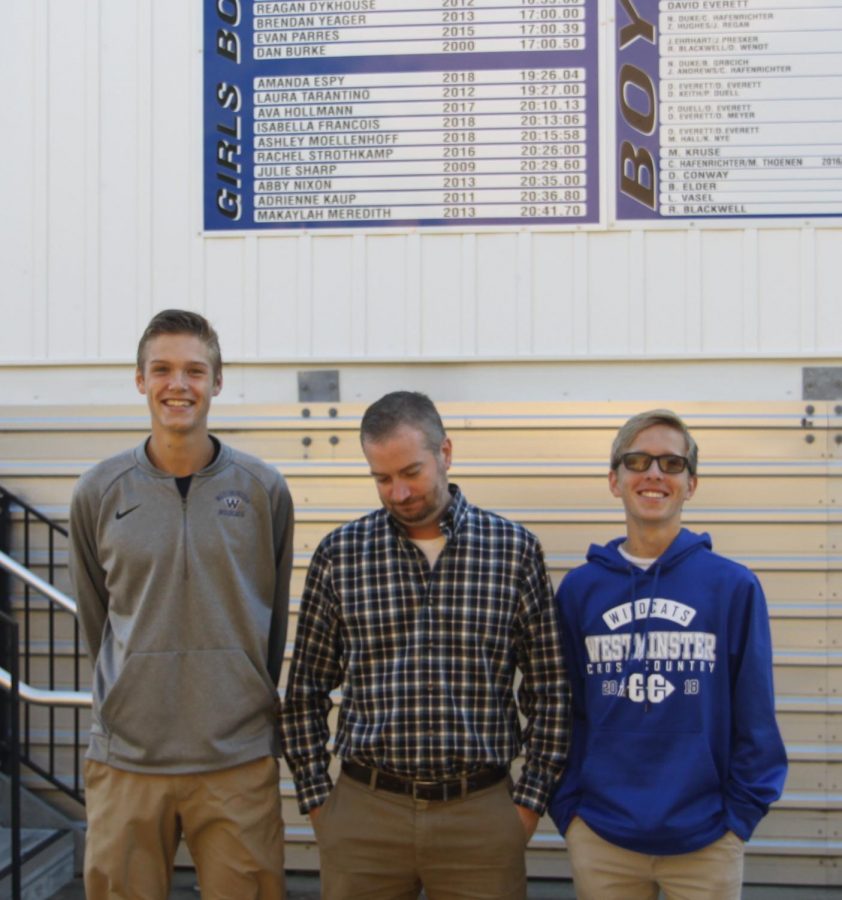 The Dethroning of Dan Burke
October 21, 2019
In the storied history of Westminster cross country, ten names hold hallowed places on the all-time record board for the 5k (3.1 miles). They are set as marks for the current and future generations to strive for. Currently serving as an upper school English teacher at Westminster, Dan Burke sits at the esteemed tenth spot on the list. In 2000, Burke ran an impressive time of 17:00.50. Back then, the Westminster cross country team looked very different than it does today.
"When I was in high school, the team was really small. In a lot of ways, it was much more of an individual sport. There wasn't a tremendous amount of a team-sport mentality as there is today. It's changed a lot. It has become a lot more of a collaborative team mindset than it used to be. When I ran that time, it was at Forest Park. It was a relatively flat course, and it was just a really fun, fast race. At the time, I was so excited to seal my spot, at least for a few years, as having the fastest time at Westminster," said Burke.
For years, cross country runners have stared longingly up at the record board out on the plaza in contemplation of what it would be like to finally earn a place among the greatest to ever run at Westminster. With the current talent in boys' cross country, the eventual dethronement of Burke was proven to be inevitable. The only question was who would do it first.
On Thursday, Oct. 10, 2019, juniors Colin Ring and Hunter Freiner were the ones to accomplish this feat. With times of 16:45.06 and 16:56.17, Ring and Freiner finally knocked Burke out of the top ten as well as Evan Parres (Parres was an extraordinary runner from the class of 2018, but he was unfortunately sidelined due to injury for the latter part of his time at Westminster). Surpassing Burke was an especially extraordinary feat for these two juniors because Ring and Freiner both had Burke as their English teacher in ninth grade. In doing so, they earned themselves the esteemed spots of 5th and 8th place.
"Making it onto the record board is a huge honor and something I'm super excited about. I have known making it onto the record board was a possibility ever since districts last year where I was just a few seconds away, and I made it one of my goals to break 17 [minutes] this year. Surpassing Mr. Burke, one of my all-time favorite teachers, as well as a few other really good runners out of Westminster is just crazy, and I feel very blessed and humbled to even have my name alongside theirs. Getting to make it onto the board with my teammate, Hunter Freiner, at the same meet while also winning the meet as a team made it all the more memorable and special," said Ring.
Coming into the race, the boys knew that they had a good chance of beating Burke's time, as the Orchard Farm Invitational has one of the fastest courses in the state of Missouri. The meet takes place on an expansive, flat farmland next to Orchard Farm High School, where there are no hills in sight. With this speedy advantage, Ring and Freiner were able to run faster than ever before. However, coming into the race the boys had been dealing with some slight aches and pains.
"My knee had been bothering me a little bit going into the race, so I wasn't sure what would actually happen during the race. Breaking 17 is a goal I have been trying to achieve for a year or two now, and to finally do it feels great," said Freiner, "I realized I had a shot at breaking 17 when I had about 300 or 400 meters left and my coach, Jacob Pinkley, said that I was at 15:45. At that point, I realized how close I really was to achieving my long-time goal."
While achieving a spot on the record board is a great accomplishment, this story is not about winners and losers; it is not meant to praise Ring and Freiner and bring shame to Burke and Parres. Because eventually, all records fade. Instead, earning a spot on the all-time list is an extension of the legacy of Westminster cross country, like the passing on the metaphorical torch from one generation to another. It is striving to glorify God in all we do through being good stewards of His gifts. It is pushing past all physical and mental barriers. After all, records are meant to be broken; sorry, Mr. Burke.