Wildcats Claim Victory in First Ever Homecoming Game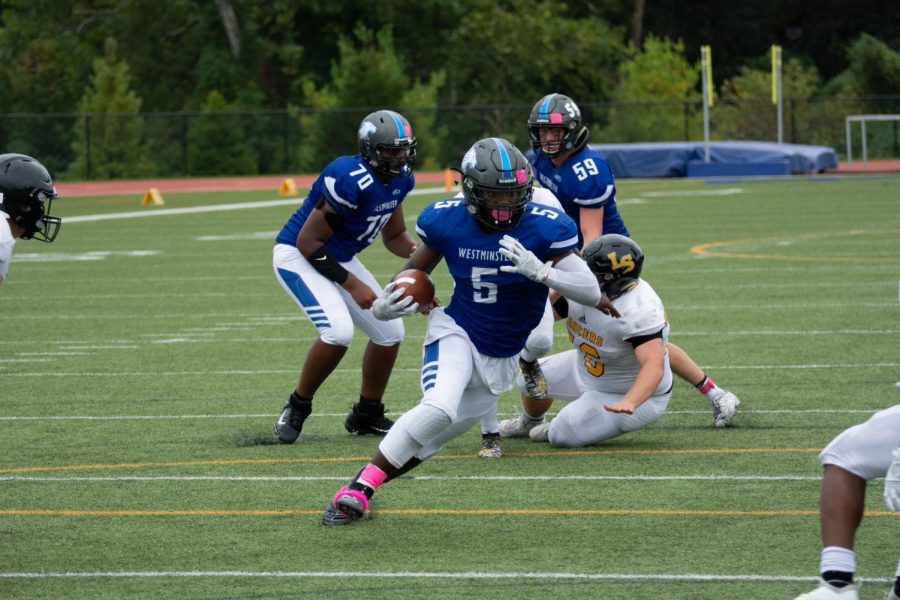 As the planes roared from the skies, the Wildcats upped their play in front of the carnival crowd. The Wildcats routed the Lutheran South Lancers by a score of 35-0 on Homecoming Weekend.
The Wildcats stormed out of the gates on Saturday. The Wildcats' offense marched down the field on the first two drives, with Sophomore running back LJ Minner finding the end zone twice in the opening minutes of the first quarter. Just before the end of the quarter, senior Lane Davis found Senior Cody Smith on a 15 yard pass for another TD, giving the Cats a commanding 21-0 lead after one quarter of play.
While the offense was certainly clicking on all cylinders, the defense also stepped up. Seniors Aiden Davitt and Toby Davidson each had many tackles in the first quarter, and Senior Arthur Jordan also chipped in with a sack early in the second quarter after arriving late due to taking the SAT. But the highlight play of the day came in the second quarter when freshman Josh Baker intercepted a pass from the Lutheran South quarterback and took it the distance, putting the Cats up 28-0 at half.
In the second half, penalties got the better of the Wildcats, keeping the 28-0 lead for much of the third quarter. However, the Cats managed to find the end zone one more time when Davis floated a ball beautifully to senior Ben Hicks in the back corner of the end zone, making for the game's final score, 35-0. While the score looks good on paper, the Wildcats were plagued by penalties and mental mistakes. If they want to win games the rest of the season, they will have to up their level of play marginally.
While the Wildcats will surely enjoy their drubbing of the winless Lancers, they will have their hands full the rest of the season. The Cats will look to extend their winning streak to three games next weekend as they travel to MICDS to take on the 4-2 Rams at 1:00 PM on Saturday.