A New Way to Experience Football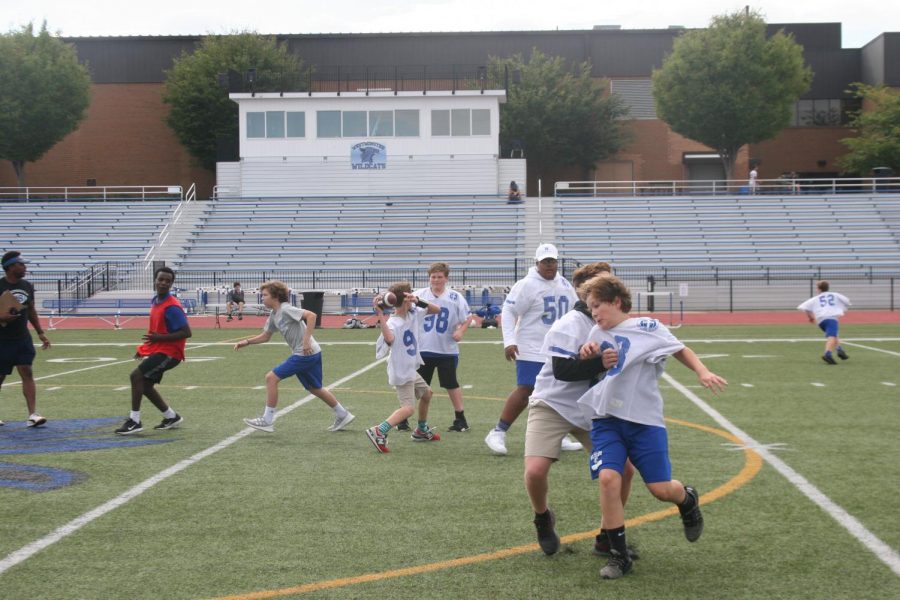 The seventh grade football team has a new look this year. Due to arising safety concerns and the desire to draw in new players, the program decided to participate in a mix of both full-contact and flag football, also called flex football. Westminster is not the only school taking on this new trend; other schools such as John Burroughs and Priory are competing in the league, as well.
Flex football is a nine-on-nine form of football where players wear a soft shell helmet along with soft shell shoulder pads. Rather than tackling the player with the ball, the play is stopped when a defender pulls the opponent's flag off of their waist. Knocking a player down is a penalty. Additionally, there are two fewer offensive and defensive linemen on the field.
The tackle football aspect comes into play with blocking. While blocking, the players are allowed to make full contact with the opposing players in their padded areas without knocking them down.
Recently, there have been some safety concerns regarding tackle football and how it affects players' health. Flex football is a unique, innovative way for kids to experience the game under safe conditions. 
"Flex football helps my hand eye coordination pulling the flags, and it brings a very low risk of getting hurt," said Austin McCarthy, seventh grader. 
While the players still aren't working on all aspects of the game, they are still developing essential skills to prepare them for high school.
There are definitely some cons to flex football, but ultimately it helps prepare them for the next level in several ways. Also, because seventh grade teams practice just twice a week for an hour, playing flex football gives players who have never played football more time to prepare and develop their fundamentals before moving on to full contact.
"Flex football allows the seventh graders to build a foundation for tackle football without the instant focus on preparing for full tackle games. This was detrimental to the development of good and safe fundamentals such as tackling and blocking which did not receive the time or attention that it deserved," said Athletic Director Cory Snyder.
The football program plans on keeping the tradition alive next year, but the decision is not set in stone.
"This is our first season using this model, and we have not gone through the tackle football phase yet, but I think that the athletes are really enjoying the experience. I would imagine that we will continue to use this model going forward but the schools will all meet and make that decision together," said Snyder. 
Overall, while there was originally skepticism about flex football, the decision seems to be turning out to be a successful one.