Baseball Preview
After a frustrating end to last season, the Wildcats return with renewed focus.
April 17, 2019
Last year the Westminster baseball team ended their season in heartbreak, falling to Boonville on a walk-off walk in the state quarterfinals. Despite the devastating finish to the year, the Wildcats ended with a 29-3 record, their fourteenth consecutive 20-win season, and a second consecutive district championship.
"
With so many seniors this year, we have a ton of experience and plenty of new faces that will help to contribute. Even with some question marks the goal of the season still remains the same: Win state."
— Jimmy Obertop
"With so many seniors this year, we have a ton of experience and plenty of new faces that will help to contribute," said senior catcher Jimmy Obertop. "Even with some question marks the goal of the season still remains the same: Win state."
This year the hopes are still high for a fifth State Championship, but there is still plenty of uncertainty surrounding the Wildcats who have lost four of their biggest offensive contributors. Three of these players, Clayton Guzdial, Kevin Graham, and Dominic Cusumano have gone on to play college baseball after combining to hit 18 home runs and knock in 120 RBIs last season. However, returning for his senior year is Obertop who has led the team in batting average the past two years and tied for the team lead in home runs with 9.
After back-to-back monster years, the Michigan commit has his eyes set on a record-breaking senior campaign and will lead the offense. Junior Brennan Orf burst onto the scene last year hitting .390 with a few clutch hits late in the season and looks to be a big contributor for the offense.
But perhaps the biggest key to the offense will be senior outfielder Blaise Matheny who is committed to play baseball at Missouri State. After a somewhat disappointing junior season, Matheny looks to supply some power for the offense and lead the team in RBI. Also look for senior Zach Gross, a Maryville commit, and sophomore Adam Ebling to contribute offensively.
The Wildcats also lost two of the most dominant pitchers in the St. Louis area who only allowed 73 combined hits in their 102 total innings pitched during the season. This year senior Zach Brasier and junior Brayden Haug look to pick up the slack after both had solid pitching performances last year. Brasier hopes to solidify his role as the ace after posting a 2.97 ERA with 37 strikeouts in just 33 innings pitched last season using his heavy fastball and sharp curveball to keep hitters off-balance.
After an impressive sophomore campaign, Haug has both the experience and talent to dominate on the mound mixing his devastating off-speed pitches with a late-moving two-seam fastball. Look for Nick Moten, Adam Ebling, and Will Mueller, three sophomores that throw mid-to-high 80's, to make a name for themselves as first-year varsity pitchers.
Also, with an already strong bullpen returning five varsity pitchers, the staff has the experience to shut down opposing offenses. The Wildcat's have had strong pitching the last three years, but this year the pitching looks to be the deciding factor that could push the Wildcats towards their fifth state championship.
"With the pitching staff that we have this year, there are a lot of good arms and if we are all locked-in, we will have a very successful season," said Brasier.
After a non-challenging schedule last season, the Wildcats cruised to a 29-2 record but head coach Dan Petke believed that his team was not at its best heading into the playoffs and as a result lost to Boonville in the state quarterfinals. To ensure this would not happen again, Petke intentionally scheduled much more difficult games against tougher competition and bigger schools.
"We made an effort to play some of the top teams in the area and will be grateful to see some really good competition throughout the entire season in hopes to prepare us for the types of teams we will face in the playoffs," said Petke.
Outside of their Metro League schedule, the Wildcats will play games against class 5 powers such as Battle, Francis Howell, Wentzville Holt, Francis Howell North, Marquette, and Lafayette.
The season begins in just a couple weeks and with all the new faces and unanswered questions, one thing remains constant for the team: the end goal of the season is a State Championship.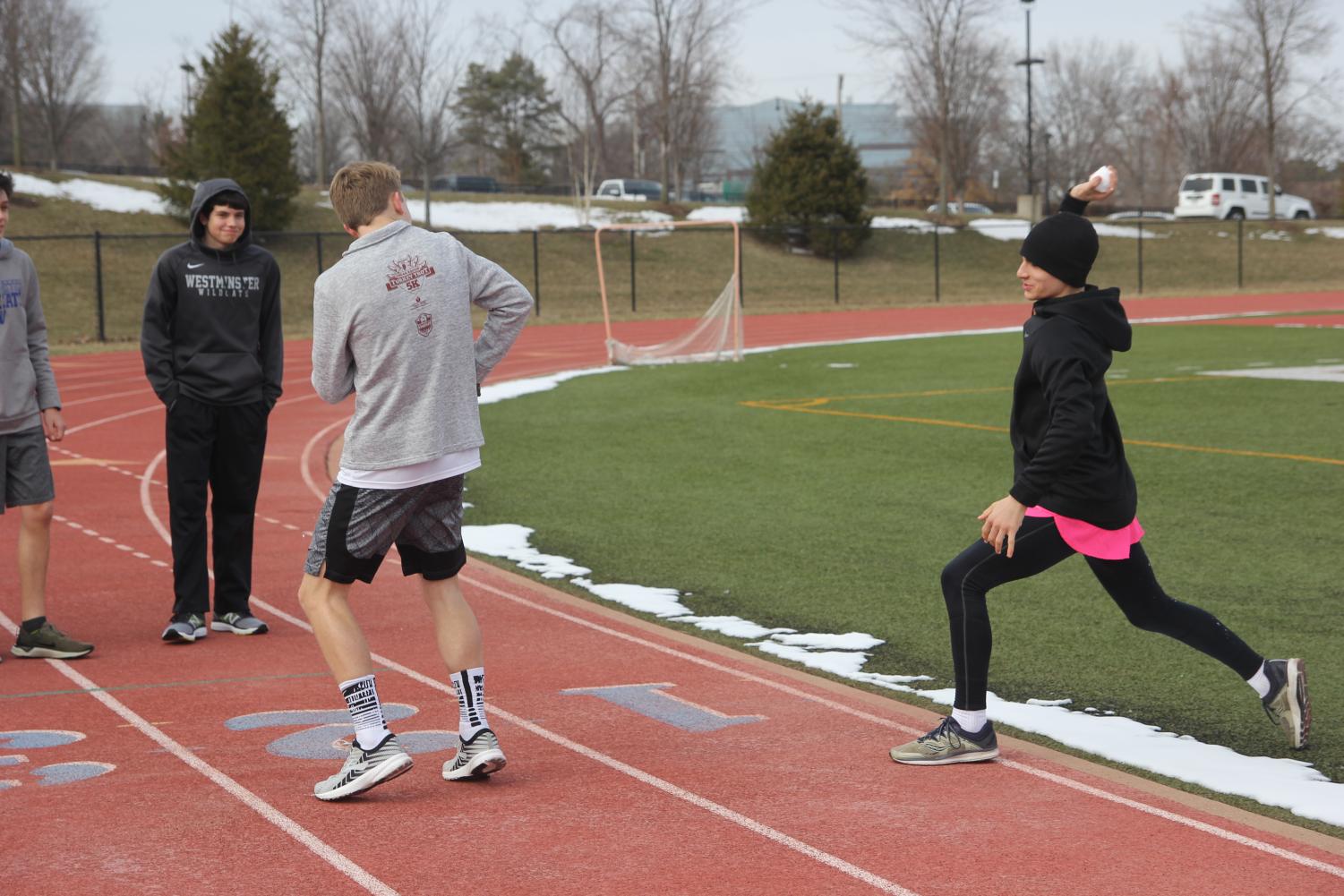 Track Preview
The track team will be good this year.
Under New Head Coach Larry Minner, the Track and Field Team looks to be very competitive this year.
One of the key members to watch this year is Girls shot put thrower Adrianna Minner. Last year, Adrianna placed 7th at state and has an offer from Central Missouri to continue her academic and athletic career. She looks to take home a top 3 finish this year.
This year joining her on the varsity team is her younger brother LJ Minner who is already considered one of the best throwers and sprinters in the nation. LJ will also be playing Lacrosse this year.
The team will be balanced out by a very strong boys and girls distance team led by senior Amanda Espy who is one of the best long distance runners in the area, and seasoned veterans Isabella Francois, Ava Hollman, and Ashley Mollenhoff. On the boy's side, Thomas Arndt, Caleb Mollenhoff, Mathias Jowdy, and Hayden Turley look to lead the way as the young boys step up their game in light of the departure of graduates AJ Lloyd, Blake Elder, Blake Andrews, and Xander Smith.
The Sprinters this year will be without two-time state competitor junior, Daphne Washington for most of the year after she suffered a tough knee injury in a car accident. But returning is Senior Zion Thompson who is expected to have a big year. Zion was a member of the record-breaking 4X100 team last year. Be on the lookout for key new members senior Kalei Layton a former soccer player who's looked very strong in practice this year and junior Miles Dix who is already looking to be one of the fastest runners on the team.
This year is looking to be a very competitive one for the Varsity Track Team.