Softball Cats Lose Quiet Game
Bats Go Silent As Cats Fall 3-0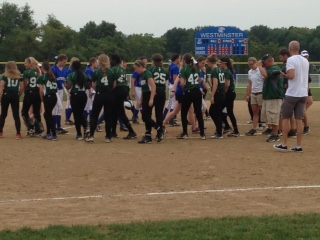 Hang on for a minute...we're trying to find some more stories you might like.
Coming off an easy win against conference foe Lutheran North, the Wildcat softball team faced off against a tough Kennedy Catholic club. Keely Sweet, senior, back in the circle after a brief respite, dominated in the first, inducing an easy grounder that she took herself to end the frame. In the home first, the Cats squandered an opportunity to break into the run column after hits by Taylor Dorsey and Annie Back, seniors, had runners on the corners.
In the second, Sweet struck out the side, working the corners to perfection while the Wildcat hitters went down in order in the home half. In the third, Kennedy was finally able to break through. Two straight questionable calls at the plate, and a timely two out base hit plated three key runs. With a runner at third and two outs, Annie Backs made a diving snag, ranging to her left to stop the bleeding. In the home half, the Cats were retired in order.
After a leadoff walk to start the fourth, Sweet rebounded to punch out the next hitter. A beautiful bunt by a Kennedy pinch hitter and advanced the runner to second, but Sweet was able to bear down and retire the side.
In the fifth, both teams went down in order.
Back in the circle for the sixth, Sweet stuck out two Kennedy hitters on her way to another quick frame. In the home sixth, Annie Backs lined a two out single to left, her second of the game, but was stranded one batter later.
Taylor Dorsey led off the home seventh, facing off against the hard throwing righty from Kennedy. On a 3-1 pitch, she laid down a textbook bunt, and beat the throw to first for a single. Aggressive baserunning moved Dorsey over to third with only one out. However, Kennedy's pitcher quickly regained her form and ended the game on back to back strikeouts.
The Wildcats play again at home tomorrow against Ladue.