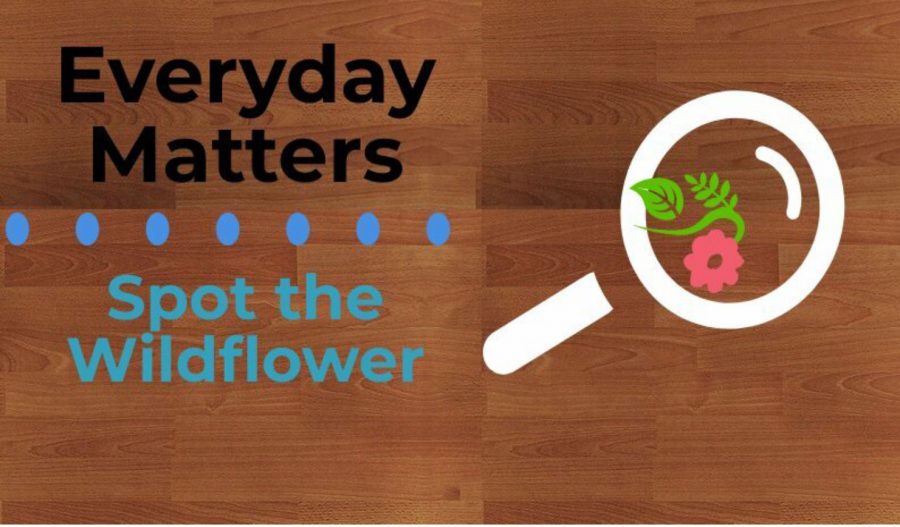 Spot the Wildflower
Spring is in the air! There is no better time to go outside and explore those tiny petals you glimpse from classroom or car windows. Instead of daydreaming out the rolled down shutters, go outside to investigate the new flora for yourself. Wildflowers only last a day or so before wilting; their season is shorter than one might expect. The brevity of blossoms reminds us that every moment matters because—just like the weeds that come and go—past weeks and months cannot be retrieved once spent. Wake up and smell the flowers before it is too late! Below is a selection of a few roadside plants you might encounter.
Clover: There are two types of clover—red and white—but the hardy white flowers are what you are most likely to come across. Bees love this ground creeper and if you spend even a handful of minutes watching their meandering it can be a surprisingly entertaining diversion.
Spring Beauty: This delicate ground-floor blossom is hard to come by, but its unique visage is well worth the diligent search to find it. White sepals surround a finely-striped pink marking on the bottom two petals distinguish the flower, though pinpointing it on the dappled floor of a wood is no small feat, either.
Dandelions: These usually grow in clumps and if left unchecked their leaves can grown in very large scalloped patches. Dandelion flowers are just maturing into seeds this time of year. Try to blow out a whole head of seeds in one breath! The saying goes: if you can dislodge the whole mass at once (like a birthday candle) you get to make a wish, but if we are realistic, the only wish coming true is one for more dandelions to take root for next spring.
Honeysuckle: If you want to be adventurous, suck the flower to see if you can taste the tiny drops of nectar or 'honey' in the blooms. While honeysuckle vines are an invasive species, the down-to-earth fragrance of its flower and the tranquility of its shade are undeniably worth experiencing.
Violets: Everyone knows the saying: roses are red, violets are blue, right? Not exactly. Scour some outcropping for a bunch of violets and compare the flowers. You may be surprised at the variation between them; don't be afraid to revise your opinions!
Jack-in-the-pulpit: This unique Missouri wildflower almost resembles a short leafy shrub, but don't be fooled! The cotyledons shade a long flower that could be confused for a Venus flytrap pitcher plant. A single stamen protruding from the inside of the flower is portrayed as the preacher Jack, in the pulpit.
Miami mist: This is another tiny, delicate bloom that grows in clusters and happens to be difficult to glimpse with only a cursory examination. However, a distinguishing feature is the finely dissected white petals that frame its center. It's definitely one not-to-be-missed sighting!