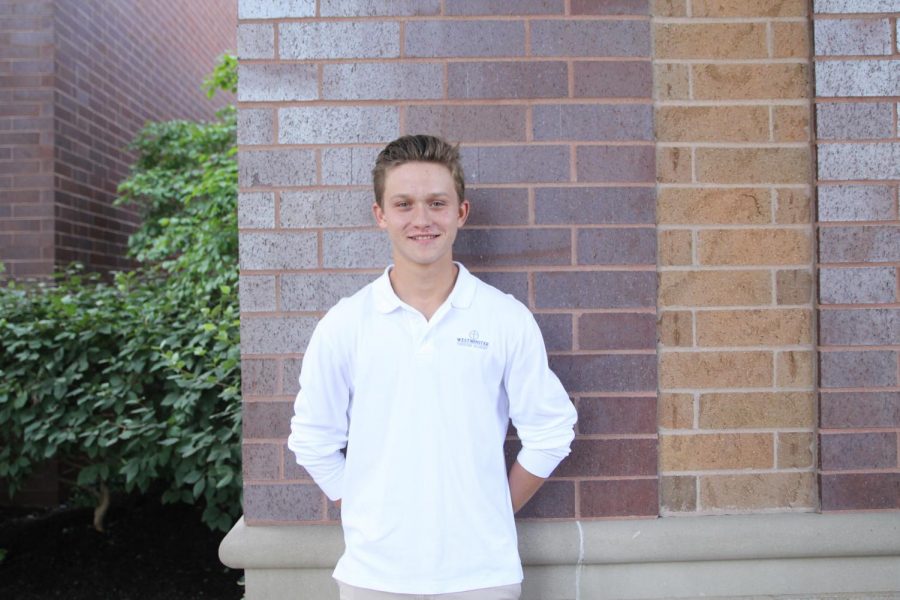 What does journalism mean to you?
Journalism is a great way of writing about how you feel and getting out the major news stories
What are your interests?
Baseball, Golf, Basketball, Friends, Video Games, Politics
What is your favorite quote?
"The man who thinks he can and the man who thinks he can not are both correct"
What did you want to be when you were 5?
Baseball Player
What are three little things that brighten your day?
My dog, listening to music in my car, 7th hour study hall
Jack Martin, Staff Writer
Mar 25, 2020

COVID-19 Chronicles

(Story/Media)

Mar 04, 2020

Westminster Outlasts Borgia to Advance to the District Championship Game

(Story)

Feb 20, 2020

Wildcats Ruin Senior Night for Lutheran South Once Again

(Story)

Feb 11, 2020

Wildcats Roll Past Fort Zumwalt East in First Round of Playoffs

(Story)

Feb 05, 2020

Wildcats Pull Away from Lutheran North in Double Overtime

(Story)

Jan 24, 2020

Wrestling Team Surging; Primed for a State Run in Multiple Weight Classes

(Story)

Jan 21, 2020

Boys Basketball Runs Through Competition En Route to Lindbergh Tournament Victory

(Story)

Jan 08, 2020

Boys Basketball Can't Keep Up with Lutheran North

(Story)

Dec 11, 2019

Wildcats Steal Win With 4th Quarter Comeback vs. O' Fallon Christian High

(Story)

Dec 09, 2019

Wildcats Come Up Short Against MICDS in Tip-Off Tournament Championship

(Story)

Dec 05, 2019

Westminster Pulls Away Late to Knock Off Lift for Life Academy

(Story)

Nov 22, 2019

Basketball Preview

(Story)

Nov 13, 2019

Wildcats Fall to Ladue in Second Round of Districts, Finish Season 5-6

(Story)

Nov 04, 2019

Wildcats Drop 35 Unanswered, Win First Round of Districts at Parkway North

(Story)

Nov 01, 2019

The Game of the Century: Powderpuff Preview

(Story)

Oct 29, 2019

Putting It All Together: Wildcats Get a Big Win to Close the Regular Season

(Story)

Oct 18, 2019

Boys' Soccer Team Rolling at the Right Time

(Story)

Oct 14, 2019

Wildcats' Win Streak Ended by Rampant MICDS Running Game

(Story)

Oct 07, 2019

Wildcats Claim Victory in First Ever Homecoming Game

(Story)

Sep 30, 2019

Wildcats Get First Victory Down the Road at Priory

(Story)

Sep 23, 2019

Wildcats Fall to Lutheran North

(Story)

Sep 17, 2019

Westminster Seniors Kicked Out For Not Wearing a Shirt

(Story)

Sep 10, 2019

Boys Soccer: Principia Panthers @ Westminster Wildcats

(Story/Media)

Sep 03, 2019

Boys Swimming Preview; Jump Right In!

(Story)