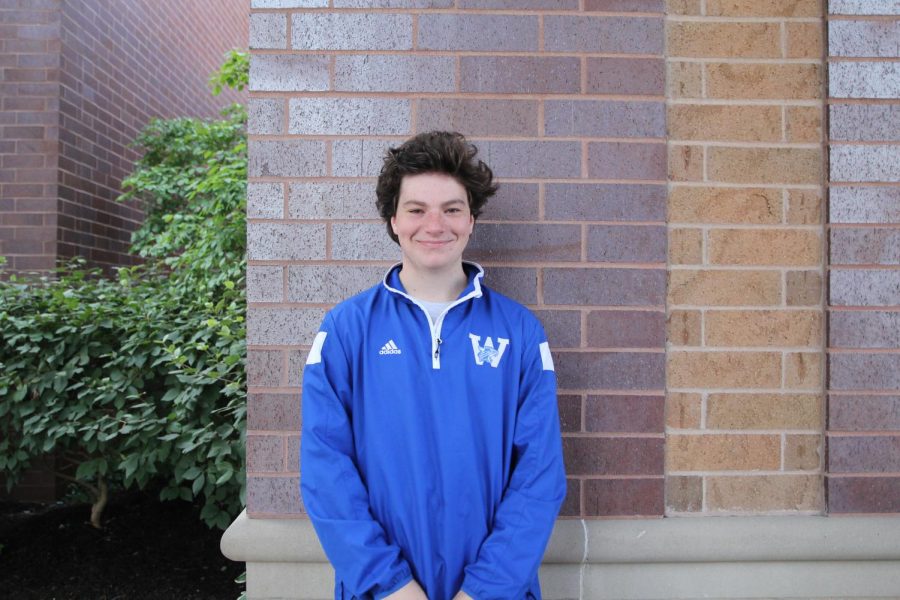 What does journalism mean to you?
Writing something that people want to read and enjoy.
What are your interests?
I love sports and competition. I love the stories that come from sports and how much it means to other people.
What is your favorite quote? "
A lion doesn't concern himself with the opinion of sheep"
What did you want to be when you were 5?
NHL player
What are three little things that brighten your day?
Remembering Bennie Anderson Jr. is going to Yale, remembering the Alamo, and remembering the St. Louis Blues won the Stanley Cup in 2019.
Aidan Penberthy, Staff Writer
Mar 25, 2020

COVID-19 Chronicles

(Story)

Feb 21, 2020

Town and Country: Titletown; It's a Great Day to Be a Wildcat

(Story)

Feb 07, 2020

Westminster Hockey Heads to Wickenheiser Cup Quarterfinals

(Story)

Jan 24, 2020

With One Game Left to Play in the Regular Season, the Hockey Team Has Their Eyes on the (Enter)Prize

(Story/Media)

Nov 07, 2019

The Bigger They Are, The Harder They Fall: Ladue Preview

(Story)

Nov 05, 2019

Always Improving: Field Hockey Season Recap

(Media)

Nov 05, 2019

Keep It Rolling: Boys' Soccer District Preview

(Story/Media)

Nov 04, 2019

Wildcats Drop 35 Unanswered, Win First Round of Districts at Parkway North

(Media)

Nov 01, 2019

It All Comes Down to This: Parkway North Preview

(Story/Media)

Oct 31, 2019

Softball Wrap-Up: Thank You Seniors

(Media)

Oct 29, 2019

Putting It All Together: Wildcats Get a Big Win to Close the Regular Season

(Media)

Oct 25, 2019

St. Charles West Preview: The Final Ride and the Return to the St. Charles Region

(Story/Media)

Oct 25, 2019

With an Overtime Victory at St. Charles West, Boys Soccer is Heating Up at Just the Right Time

(Story/Media)

Oct 25, 2019

Three-Sport Athlete Nolan Jones is Making an Impact

(Media)

Oct 23, 2019

Wildcats Open Up the Field Hockey Postseason with a 4-0 Victory Over Pattonville

(Story/Media)

Oct 21, 2019

Wildcats Defeat Christian High after Slow First Half

(Media)

Oct 18, 2019

Boys' Soccer Team Rolling at the Right Time

(Media)

Oct 18, 2019

Christian High School Preview

(Story/Media)

Oct 14, 2019

Wildcats' Win Streak Ended by Rampant MICDS Running Game

(Media)

Oct 11, 2019
Oct 07, 2019

Wildcats Claim Victory in First Ever Homecoming Game

(Media)

Sep 30, 2019

Wildcats Defeat Edwardsville in Shootouts

(Story/Media)

Sep 17, 2019

Westminster Seniors Kicked Out For Not Wearing a Shirt

(Media)