Who Are You Wearing?
A breakdown of fashion at Westminster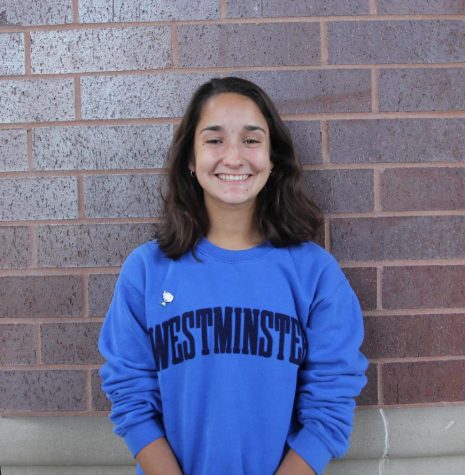 More stories from Ava Hollmann
Visions of navy, plaid, and khaki come to mind when initially considering what students at Westminster wear on a normal school day. However, with more concentration, images of Chacos and checkered Vans materialize as well. Suddenly, it is obvious that, despite the semi-homogenous Land's End uniforms, student styles are present at WCA. And, among the sea of brands and colors, six general categories exist:
"I'm West County Basic because… it's basic." (a.k.a. West County Basic)
Ah yes, the staple of youths who live in the pristine 'burbs of St. Louis. For these teens, rap, country, and pretty much any song with a catchy beat are a must. And those pop-y beats simply cannot be heard without a white Jeep Wrangler on Highway 40, or Airpods in the crowded hallways of school. For boys at WCA, this style includes over-worn Sperrys, year-round khaki shorts, a Vineyard Vines belt, and a sporty outerwear jacket (Patagonia and Nike are acceptable). For girls, it's Adidas sneakers, LuLulemon leggings, and a gleaming Apple Watch (gold or rose gold are preferred). To deviate from these style standards would certainly indicate a drop in one's existential high school status.
"I like Urban Outfitters, and highschool-dropout vloggers" (a.k.a.- Dropout Vlogger)
While this is similar to West County Basic, it has a bit more of a girly flair. Those who gravitate toward this style probably watch Youtubers like Hannah Meloche, Emma Chamberlain, or Ava Jules. Also, they dream of going to Coachella to see Tyler the Creator or Kacy Musgraves (fingers crossed they'll get a cheap Airbnb!), and love Urban Outfitters and PacSun. At WCA, it includes Birkenstocks- sorry, I mean "Birks"-, a beaded choker, cartilage piercings, and a messy bun/ponytail, which is barely held together by a velvet scrunchie. For boys, the equivalent might be whoever's TikTok-famous right now… haven't figured the male version out yet. Sorry.
"I shopped at Zumiez that one time" (a.k.a. Edgy Teen)
The teens that beat to their own drum. The kidz who would rather not post this random yet meaningful moment on Snapchat, and who, most importantly, renounce any music but alternative and indie rock. For boys and girls alike at WCA, checkered Vans, combat boots, messy bangs, and, sometimes, socks with sarcastic jokes on them, are outfit staples. Sure, if these teens attended a school with no uniforms, they would sport black, tight-fitted jeans and colored hair, but they'll make do while at "the academy," saving those wardrobes choices for the Tame Impala concert over the weekend.
"I don't live in Colorado, but if I did, this is what I'd wear" (a.k.a. Midwest Mountaineer)
The modern-day hippies of our time, folks. These teens attend Kanakuk, Honey Rock, or really any Christian summer camp, and wear oversized Comfort Color t-shirts whenever not at WCA. They don't live in Colorado, but if they did, they'd channel the same outdoor-sy vibes. At school, these boys and girls wear hand-made bracelets (most likely from their past mission trips), Chacos, and carry a Nalgene or Hydro Flask covered in stickers. But they did not order these stickers from Redbubble- no, these stickers were earned, collected, and framed on their trusty H20 supplier, from past rugged experiences.
"I'm an athlete. It's who I am." (a.k.a. Sport is Life)
The final and most simple style at WCA, this one really just includes anything with three stripes or a swoosh on it. And, with enough of each on someone with this style, it is apparent that they work out after school, thank you very much. For boys, this includes shiny and outrageous basketball shoes (these are only their day pair, though), tall socks, and short, gelled, no-nonsense hair. For girls, a thick headband, high ponytail, and any athletic brand of shoes will suffice, so long as their feet are comfortable. So maybe these athletes don't have as much cute-sy pzaz- they're athletes. It's who they are.
"I don't fit into a box" (a.k.a. Ava Hollmann, Opinions Editor)
As much as I would like to say that I can't categorize myself, intentional avoidance is still a style. I know the system, and I seek to undermine and renounce it.