Athletics are More Important Than We Think
The positive outcome school sports have on students
Hang on for a minute...we're trying to find some more stories you might like.
As August approached and fall sports began, it becomes more evident that athletics play a major role in high school student's social life. Students interests and concerns tend to revolve around sports. High School Athletics Participation Survey found that more than 7.6 million high school students in the US alone are involved in a school sponsored sport. That adds up to about 55.5 % of all students. School sports are a major commitment and tend to include daily practices and week day games. The athletic involvement of a student is beneficial in more ways than one, outweighing the added stress of being involved in a sport.
A positive factor of being involved in school sports is it leaves less time to get involved with harmful or illegal substances.A report from the NFHS (National Federation of State High School Association) cited a study by the Department of Education showing that students involved in school sponsored sports are 49% less likely to abuse substances or involve themselves in illegal activities.
"I barely have time for school and sports, doing something that could get me into trouble hasn't even cross my mind," said Jaela Ginger, sophomore. Student athletes are much too worried about dominating the field and maintaining grades to get involved with things such as drugs or alcohol. Being involved in a sport ultimately prevents students from getting into legal trouble, and holds them accountable for their actions, while preparing them so students can properly balance a college level work load. Global Sports explains that students who are involved in a sports are reduced to the risk of things such as juvenile arrests and school dropouts, making it clear that involvement in athletics is crucial for the wellbeing of students.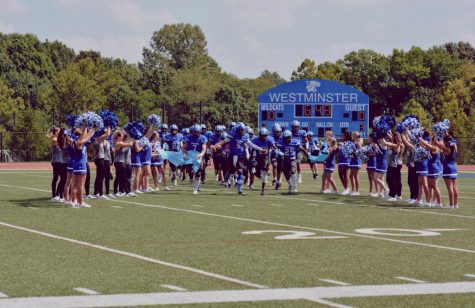 Secondly, students that are involved in sports are required to attend school if they wish to attend a practice or game after school.Their dedication to the sport and desire to attend all of their games produces student athletes that have an altogether higher attendance record than students who are not involved in a sport. Along with attendance requirements, there is also a GPA requirement. In Missouri, the minimum GPA requirement for student athletes enforced by MSHA is a 3.0 on 10 point grading scale. Because of the involvement in school and the GPA requirement, student athletes are already prepared for a college atmosphere. Student athletes have to work hard to maintain good grades, so becoming involved in athletics pushes students and helps them to grow as individuals.
Because of the many hours spent at practice and games, students learn time management, commitment, and other key life skills. Education.com wrote an article about the "Three P's"  persistence, patience, and practice, and how student athletes have these qualities enlisted in them because of countless hours of team practice and the time management required to maintain things such as a 3.0 GPA.
Persistence is a key quality in student athletes, it is rare that all teams go undefeated or start on the top of the charts. It takes time and effort to build a strong team, with the ups and downs of a season, an athlete develops the skill of persistence which in turn can play a roll is school work or future jobs. All team sports require patience and composure. Whether it's dealing with other players or officials, things are not always going to go the way a player wants. Patience is essential in order to be able to deal with all of the practices and school work a student athlete undergoes. Because the majority of school sponsored athletics practice everyday, the thought of "practice makes perfect" is instilled into many student athlete's minds early on. These student athletes learn the concept that in order to be good at something, they must put work in. By becoming involved in school sponsored athletics, athletes develop life skills that become beneficial when working with other people.  
Involvement in athletics can do more than just keep students active, it develops quality character traits and teaches important life skills. Students involved in sports have the opportunity to excel in crucial skills that can benefit them in the future.