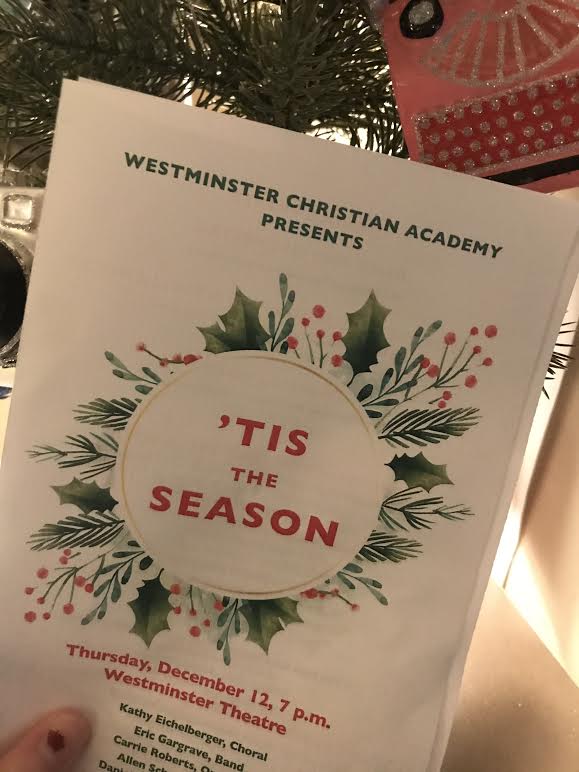 Maggie Lindstrom
Before the Christmas concert, I had the chance to ask a few of the performers what they were excited for. Ava Berutti, sophomore, explained what she was excited for: "I think the concert is going to be really fun this year because orchestra and band are playing the instrumentals for the choir and vice versa.''
Another sophomore, Stewart Geisz, also shared what he was looking forward to: "Men's Chorus is doing a fun song called 'Holly Jolly,' I like it because we get to sing with kazoos."
The Christmas concert started on time at 7:00 pm with the opening band and orchestra. The jazz band and orchestra were featured alongside the whole concert choir and the split choirs. The jazz band had a solo named "Rest Ye Merry Samba," and Eric Gargrave conducted them very nicely for the show, making the concert more exciting. Carrie Roberts, director of the orchestra, also participated in an amazing rendition of "Somewhere in My Memory" from Home Alone.
"Holly Jolly Christmas" was definitely one of the best songs they performed, and it filled the whole theatre with the Christmas spirit. The men's chorus also did a cover of "Little Drummer Boy" which was beautiful as always.
The song "Believe" really left me in the Christmas spirit, feeling a lot of hope, and it just kinda made the way for the rest of the concert. This really lived up to all the expectations and truly had the Christmas feel to it.
Chamber choir did a wonderful cover of "Feliz Navidad" with the jazz ensemble. This song was amazingly composed by Allen Schwamb. The jazz ensemble really made the song even better!
The middle school chorus also sang "You're a Mean One, Mr. Grinch," and they got to dress up and perform a dance with the song. It was super fun and was a great start to the concert.
Matthew Culligan, senior, narrated the book "T'was the Night Before Christmas" with the orchestra playing a musical version of it.
The whole concert really lived up to the great expectations and was a wonder to hear!
Special thanks to Kathy Eichelberger, Allen Schwamb, Eric Gargave, Carrie Roberts, and Daniel Herrera for directing the whole concert; they have been working hard for a couple months now. Also a big thanks to all the performers who sang their hearts out in the many hours of preparation they all went through. Another big thanks to the jazz band for their amazing playing. Orchestra also went above and beyond for the concert, so big thanks to them.
I am personally glad I attended the concert, and the Westminster performing arts department really put together a wonderful Christmas concert. "'Tis the Season" for finals, and a long break!