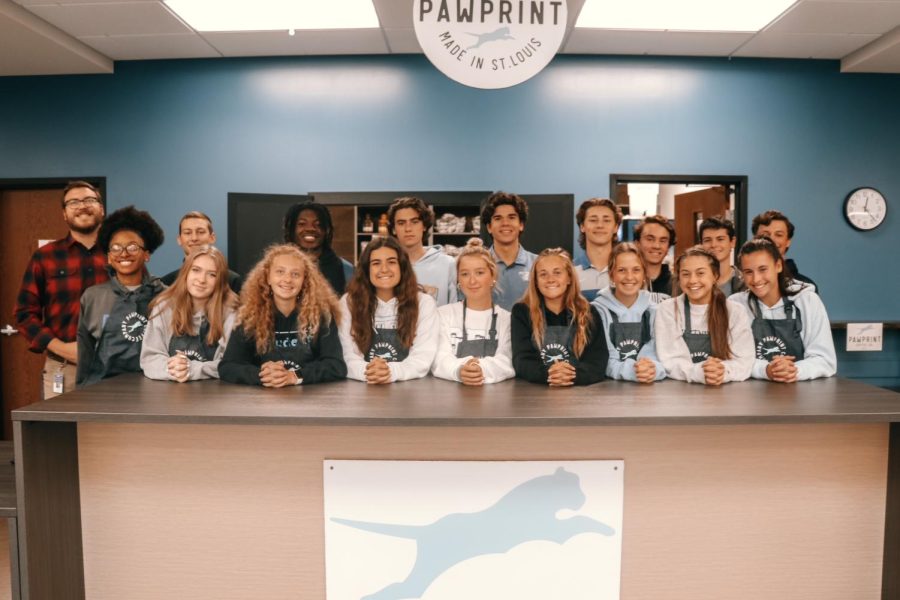 Photo courtesy of Pawprint Coffee.
This year, Westminster's senior entrepreneurship class found great success in Pawprint, the completely student-operated coffee shop located in the Hub. From working with finances brewing unique coffee drinks, this group of students runs every aspect of the business. 
Pawprint's seniors are split into five teams: Finance, Operations, Marketing, Human Resources, and Community. "We collaborate usually in specific teams at the start of class and come together to discuss different projects each group is working on," said Luke Bequette, senior. They also had a group chat which they utilized often to stay connected and work outside of class on Pawprint-related projects.
Because of this connectivity within the team, Pawprint experienced much more success this year than in previous years. "If it was the change of locations to the Hub or just the new staff members, it worked. We created a lot of success and ultimately created a fun, loving environment that not only we Pawprint staff can enjoy, but we can share that love and joy within our Westminster community," said Kendal Toretta, senior.
Originally started in 2017, Pawprint has evolved in major ways throughout the past few years. "This is my 3rd year, but Pawprint has existed for 5," said Brian Maloy, business teacher. Former Westminster business teacher Jonathan Horn created the idea for Pawprint and led the class in its inaugural years, and after that, he handed it off to Maloy to continue building this entrepreneurship class. From new teachers to location changes to different names, Pawprint's evolutions have come with each new class of its senior entrepreneurs. Each new team works to troubleshoot and change aspects of the business that could operate better.
Now, as the year closes out, the Pawprint team is proud of what they were able to accomplish. They expanded both their physical location and their outreach within the school. "We sponsored more events this year: the plays and musicals, donor events, had a booth at the carnival, open house, etc," said Madison Doehring, senior. These events helped their brand become well-known in the community and allowed them to make money at events where students and their families would be present.
And, most importantly to their customers, they made some amazing drinks. Using Kaldis coffee, they crafted lattes, cold brews, drip coffees, and more. Some favorite drinks within the Pawprint staff were a honey lavender latte with oat milk (Doehring), a vanilla latte with almond milk (Toretta), and the caramel frappe (Bequette). But they did not sell just coffee—Pawprint also expanded to sell smoothies, matcha, tea, and refreshers. Especially for underclassmen and middle schoolers, these drinks were ideal in the mornings students could not get coffee before school on their own. However, teachers and students of all ages enjoyed the amazing variety of drinks from Pawprint.
Overall, Pawprint's team this year truly stuck to the company's mission statement: "making differences within the Westminster community through intentional relationships, creating a comforting atmosphere, and spreading joy one cup at a time." By moving to the hub and connecting to the community through more events, Pawprint made a name for themselves and truly spread joy to Westminster. The community has loved seeing the evolution of their school's coffee shop over the years, and students and staff alike all enjoyed the joy created by Pawprint through this team of seniors.