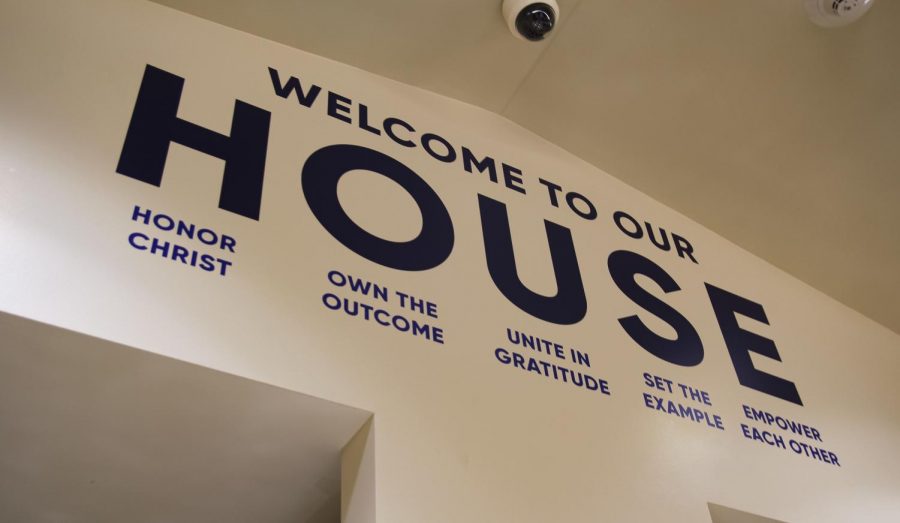 Christina English
H.O.U.S.E. is an acronym that explains the core elements that make up Westminster as a school. H stands for honor Christ, O stands for own the outcome, U stands for unite in gratitude, S stands for set the example, and E stands for empowering each other. H.O.U.S.E. is a way to help Westminster students think positively and become one big, strong community.
"H.O.U.S.E. is an articulated, simplified way to represent who we are, what we believe, which equates to our culture here at Westminster," Jen Sengpiel, head of enrollment, said. "It's for our students, it's for faculty and staff, it's for everybody that comes into the building, vendors that we work with; this is who we are, and this is how we act and how we come together." H.O.U.S.E. is what is going to bring all of us together as a school body. It is a combination of all the things that Westminster has been made up of in the past that it considers important into a simple acronym that's easy to follow. H.O.U.S.E. is Westminster's way of being warm and welcoming to visitors and gives off a homey vibe. It is for everyone and everything, and we should show who we are to the world. 
Jen Sengpiel continued, "It's really up to all of us to grab hold of this for it to be rooted. We need to be intentional, and I think that intention starts with us as teachers and faculty and staff to say it; to reference it. […] I would love for the students to grab a hold of it too and make it their own." The people of Westminster are the people who are going to represent what H.O.U.S.E. means. It should be encouraged by everyone who works at Westminster, and people have plenty of opportunities to give H.O.U.S.E. its own creative meaning that shows who they are as brothers and sisters of Christ.
Being one community that follows the path of Jesus Christ is the goal of H.O.U.S.E., and as the people that make up Westminster, we should strive to live up to the acronym.