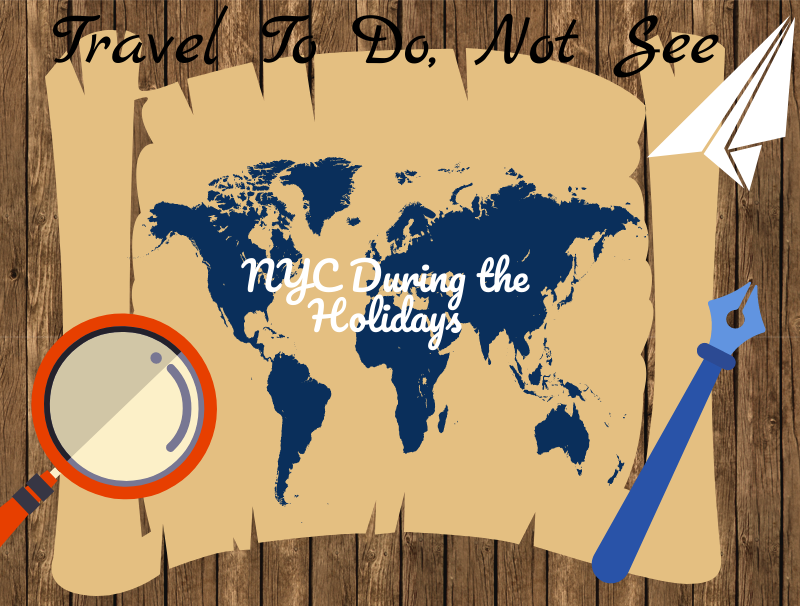 The hustle and bustle of Christmas time in New York is something I've never experienced anywhere else before. Shoulder to shoulder people, stores overflowing with shoppers, gorgeous decorations everywhere. Christmas in the big apple is different than Christmas in any other place. It's magical, just like you see in all of the movies. Even though there are so many holiday festivities you could indulge in, take a minute, stand still, and just simply look around. Take it all in, because there is a lot. Just to think that these crowds at Christmas are not much different than an average Tuesday in July. 
When we went during Christmas time in 2016, one of my favorite parts was strolling through the Bronx's Zoo Winter Wonderland. It really was a wonderland, snow, animals, hot chocolate, what more could you ask for, right? Christmas trees on every corner and beautiful lights everywhere. It truly is a sight everyone needs to see for themselves. 
Another NYC hotspot is Bryant Park, my personal favorite part of the trip. The ice rink opens at 8 a.m. and is packed right at start time. There are dozens of little Christmas shops everywhere, anything you can imagine, they have it. Next to the Rockefeller Tree, because nothing can ever top that, Bryant Park has the most beautiful Christmas tree as well. With over 9 acres, you are sure to find something to your liking. 
 Obviously, everybody is familiar with Central Park, but at Christmastime, it is a completely different scene. When we visited Central Park in late December, my family and I did a horse carriage ride around the park. Despite the frigid weather, it was amazing. There were so many facts about New York City that I never knew before that day. We got a very unique experience of the city from the ride.
Another spectacular way to spend your Christmas in New York is Rockefeller Center. Whether that's ice skating, going to The Today Show, shopping, or eating at one of the amazing restaurants. You will surely never forget your experience, just like myself. To this day, New York City is one of my favorite places to travel, especially around the holidays.