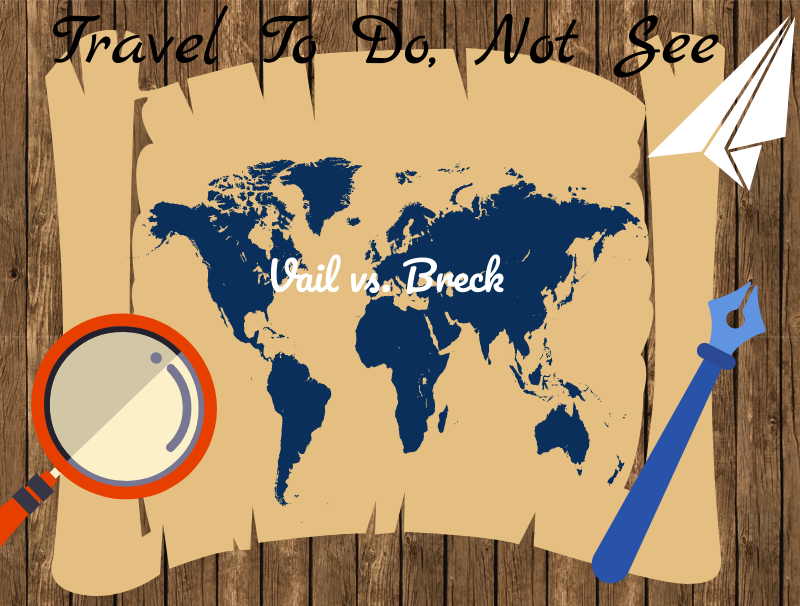 Ellie Jone
Every skier has their own style. Whether that's taking it slow on the blues or shredding it up on the double black diamonds. Most ski resorts you travel to will offer either option, however there are exceptions to everything. Ski resorts in Aspen, Colorado and Big Sky, Montana are substantially more difficult terrain than Breckenridge, Colorado. While all three of these resorts have green, blue, black, and double black runs, when you actually ski them and compare the runs from each destination you will realize the difference. For example, the blues in Big Sky are tremendously more difficult that the blues in Breck. Also, in Big Sky, they do not groom the snow as much whereas Breck, they groom nightly. Personally, I'm not a fan of moguls, which for those of you who do not ski, are large bumps of ungroomed snow that you have to ski around. I tried them once, and did not end well. 
Two of my favorite ski resorts that I have visited are Breck and Vail. Both beautiful, both intermediate and both in Colorado. If I could live in Colorado and ski everyday, I would. I have loved it ever since I was five, and we have gone back once or twice a year since. Both Vail and Breck have almost the same number of trails in total. Breck has 187 and Vail has 195. However, talking from an acre-standpoint, Vail is considerably larger. Reigning in at around 5,317 acres, leaving Breck at 2,908 acres. 
I think Vail is much higher-end than the town of Breckenridge. With more upscale restaurants and shops, more celebrities ski there than Breck. Breck has t-shirt shops on every corner, and the restaurants are not as extravagant. Nevertheless, it still has incredible views and awesome slopes. Coincidently, both resorts are owned by the same company, so there definitely are some similarities between the two. The quality of terrain and difficulty of each level are extremely close to each other. Vail also provides many more options for lodging, with 103 options, these gorgeous hotels are sure to make your stay unforgettable. When we traveled to Vail, we stayed at The Sebastian. It was stunning, one of my favorite hotels I've ever stayed in. The lodging options in Breck are more of a cozy, fireplace type of stay, which I also love. 
Each resort has its own unique and special vibe, surely where you will get nowhere else. After comparing the two, if I had to choose, I would choose Breck. Mostly because we have gone there since the beginning, and I love it. The trails never get old and the town is adorable. However, I would definitely recommend either one, they are both amazing.