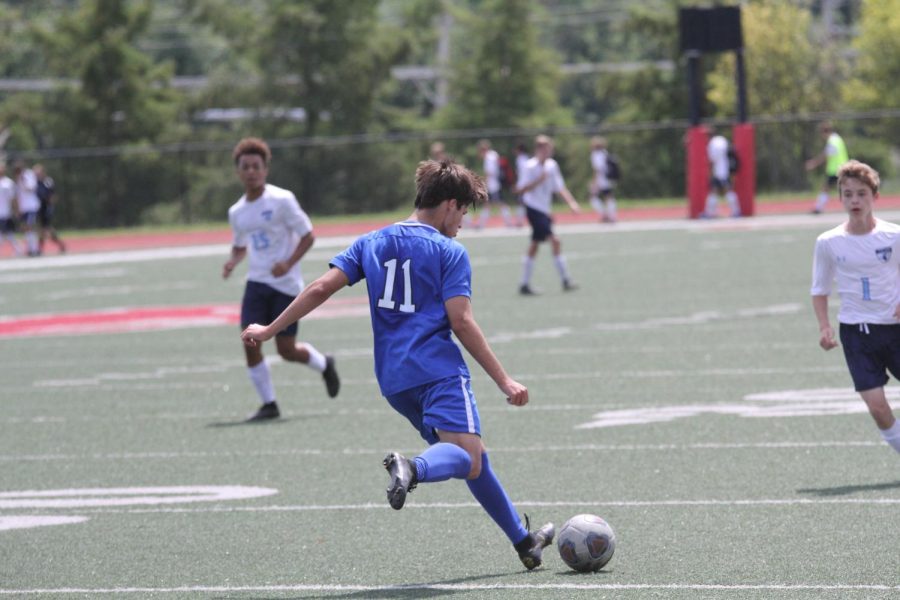 800 Sporting
On Tuesday, WCA traveled across the highway to Priory for a big soccer game. Priory is ranked the number two small school for soccer according to stlhighschoolsports.com. Westminster knew it would be a tough match, but the team was up to the challenge. 
Early in the first half Priory scored after having many scoring attempts. This first half was tough for the Cats even though they played good defense. Near the end of the half Westminster had a few good scoring chances but couldn't net them. Although they were scoreless, the Wildcats had momentum going into halftime. 
WCA rode this momentum and senior Will Warren scored early to tie the game. This energized the Cats and about ten minutes later Tyler Hott scored to put the Wildcats up 2-1. 
This was a hard fought game until the clock hit 00:00, as Priory had many scoring chances late in the game. In the end, the Westminster defense held and the good guys came out on top. 
With Calvin VanHeest and Landon Cassidy on defense, Priory struggled to keep possession on offense. The defense communicated well and got the outcome they wanted. 
Tyler Hott was everywhere on the field, using speed and strength to push the ball downfield and create many opportunities for a goal. 
Both Caden Collison and Will Warren benefited from Hott's hustle as they both had outstanding performances on offense. 
The Wildcats showed that they can win against one of the best teams in St. Louis and they will look to keep their winning streak alive. They have looked very good and are hoping to make a deep run in the playoffs later this season. 
Westminster recently mercied Lutheran St. Charles and beat bishop DeBurg. WCA lost many seniors prior to this year but are still holding up. The squad has played amazing and looks forward to the rest of the season. They hope that more student fans will come and see this exciting tea m.