Lawrence and Williams Lead the Pack in First Win of the Season
On Monday, November 29th, the Westminster boys varsity basketball team competed in their first game of the season. Although 3:45 was not an ideal time for spectators, the Blue Crew and parents supported in full force. The Cats took on the Tigers of Soldan High for the first game of the MICDS tournament.
The Wildcats started off on fire, jumping out to a big nine point lead in the first few minutes of the game with help from Casen Lawrence, senior, pulling it from way downtown. However, they allowed the Tigers to go on a run to make the score 13-9 after the first quarter.
The Cats began to turn up the heat in the second quarter, scoring a whopping 34 points compared to Soldan's 13.
Kobi Williams, junior, and Lawrence combined for 31 points in the first half alone to put their team up 37-23 at halftime.
"Casen Williams was raining down [shots], and Kobi Williams was doing his thing with 17 points. Westminster is rolling right now with a 14 point lead. You love to see it," said John Hough, owner of the GSV_STL Instagram and Twitter accounts.
The Wildcats did not take their foot off the gas in the third quarter with big threes from shooters, Matt Buchanan, senior, Lawrence, and Williams.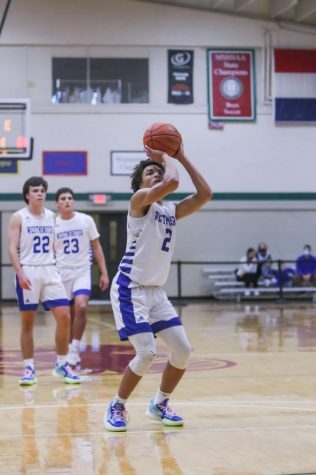 The Cats headed into the fourth quarter with a 15 point lead and stretched it out to about 23, where it stayed for the most part. Westminster ended up winning by a margin of 21. The final was a 70-49 Cats win.
Lawrence ended with 25 points, while Williams had 23. Westminster opponents will certainly look out for this duo throughout the season.
"It was great to start off the season with a win, but we all know we could have played better. We have to practice well for our upcoming game against a pretty solid Whitfield team on Wednesday," said Williams.
It was more than just our offense that shined today; our defense was on lock down all day. EJ Williams, senior, was all over the place, flying around getting steals. Everyone contributed in the defensive and rebounding game. Austin Vick, senior, was a monster on the boards, snatching a multitude of rebounds right over the Tigers' heads.
The MICDS tournament will be a good early season test for the boys, with the likes of Whitfield, MICDS, and Jennings all competing.
The Cats' next game is against Whitfield on Wednesday, December 1st at 8:15 p.m. This will be the semifinal game of the tournament, and if they win, they have the chance to play on Friday, December 3rd at 8:15 for the championship.