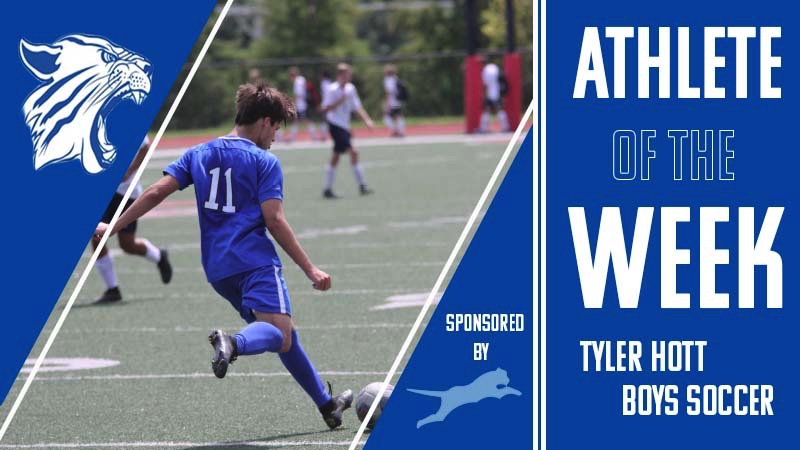 Graphic by Evan Kohn
Sporting's "Player of the Month" is officially back, but with a twist. Rather than choosing one standout athlete for each month of the year, we have decided to highlight a different athlete each week in order to create greater opportunity for everyone to receive the reward, which includes a prize from Pawprint. Then, at the end of each season, Sporting will, with guidance from public polls on our Instagram (@sportingwca), select one of the weekly athletes to receive "Athlete of the Season," who will be rewarded with both a Pawprint discount and free Sporting gear.
This year's very first "Athlete of the Week" award goes to Tyler Hott, junior soccer player, for scoring a game winning goal.
This past week, on September 10th at 4:15, the boys soccer team traveled to Parkway Central to face a very talented Colts team. Fans describe the game as prolonged and uneventful until the last minute. Just when everyone thought the game would go into overtime, the Cats began to gain momentum and gave the crowd some hope. In the final 40 seconds, Westminster gained possession of the ball, making several connecting passes in the center of the field. Caleb Legters, senior center defensive mid, took a quick shot from the top of the 18 but missed due to Central's packed defense in the box. However, the ball was perfectly deflected to Tyler Hott, junior forward, who took a few touches before burying the ball through two defenders and into the right side of the net, putting the Cats up 1-0 with 28 seconds remaining in the game, which led to an overall victory.
Hott has played on the soccer team since his freshman year and has been a vital part to the team's success. So far this season, he has scored four goals and given four assists to create a cumulative of twelve points overall.
Congratulations Tyler!