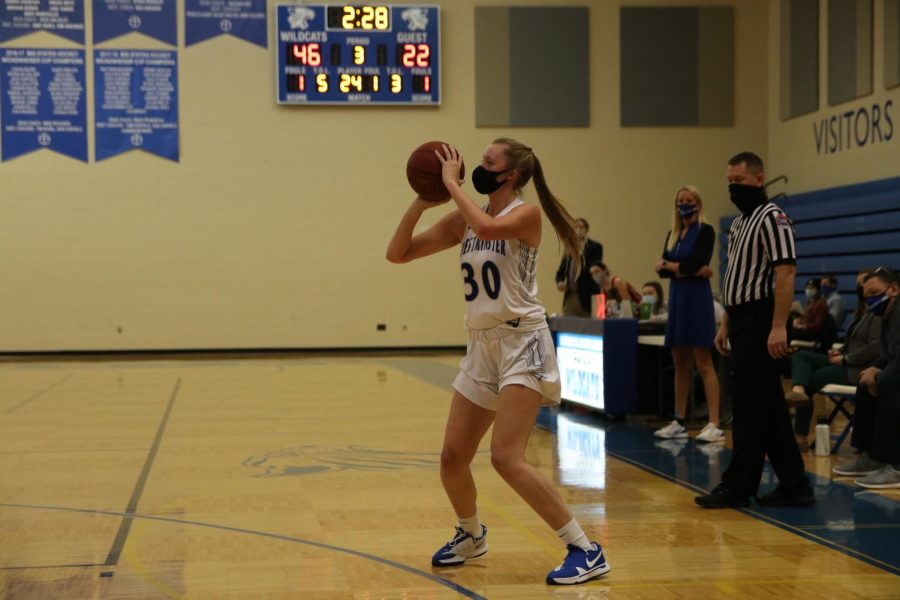 Nolan Jones
On January 7th, the Cats faced their first matchup as the one seed, the eight seeded Pattonville Pirates. Off to a slow start, the girls held a thirteen to eight lead. However, after a seventeen to zero run in the second quarter, the lead was stretched to 27 to three at half. With twenty points from Brooke Highmark, seventeen points from Reilly Brophy, nine rebounds from Carlie Vick, and eight rebounds from Julia Coleman, the Wildcats took home another victory 66 to 41.
The next day, on January 8th, Westminster faced a strong Francis Howell Central team, seeded fourth, in the semifinals. Although the Cats took an early lead, the Spartans went on a run in the second quarter, closing the gap to only six points at half. In the second half, the Wildcats figured out how to break down the 1-3-1 zone by finding the open gaps on the wings for three point shooters to knock it down. Ending with a 60-53 final win, Brophy finished with a career high of twenty points, shooting six for eleven from the three point line, Coleman added fifteen points and nine rebounds, Highmark dished out eight assists, and Vick secured an additional nine rebounds.
On Saturday, January 9th, the Cats prepared to battle the underdog of the tournament, the seventh seeded Cor Jesu chargers. The chargers pulled off two upset wins prior to the game against Troy, seeded second, and Life for Life, seeded third. The girls knew that they wanted to put on a strong performance, as they lost in the tournament semifinals last season to Gateway STEM 46 to 51. Coming out of the gate hot in the first quarter, Westminster scored 23 points as opposed to Cor Jesu's thirteen. With twenty four points from Highmark and twelve each from Coleman and Vick, the Wildcats dominated and earned the first place trophy with a final score of 62 to 27.
The girls basketball team now has a record of eleven and one, and they travel to Eureka on Friday, January 15th at 6pm to face the purple Wildcats.