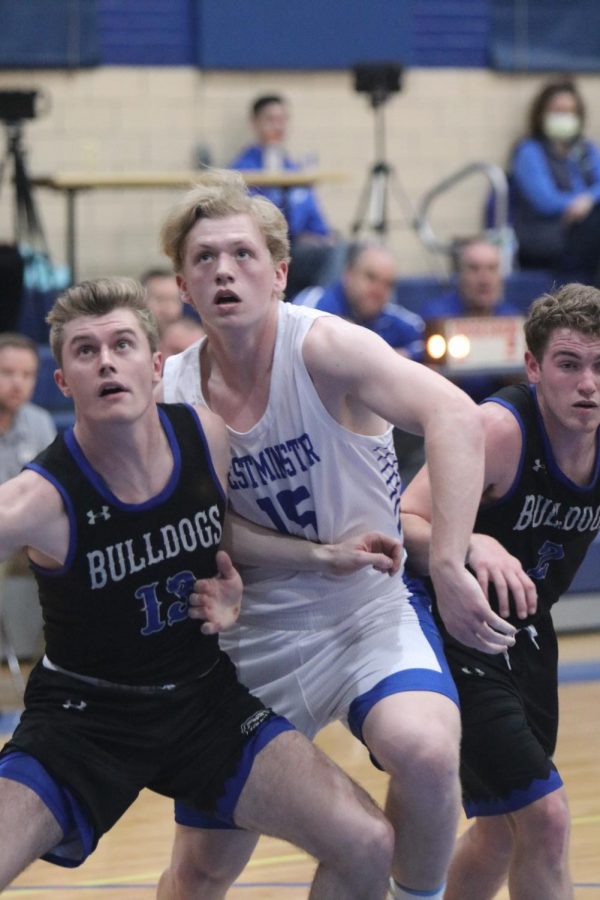 Tommy Briner
PERRYVILLE, MO – It was the bandbox gym of St. Vincent High School that served as the setting of the conclusion of the best Westminster basketball season in recent years. The CYC-esque arena could fit maybe 300 people fully packed. It housed 180 plus media members and officials on Saturday afternoon.
Our world is filled with so much unknown. For the last week, we've watched our nation shut down and society pause. No professional sports teams are playing. As of now, all but four other states have canceled their postseason basketball tournaments, including border states Illinois and Kansas. However, Missouri decided to proceed with their tournament this weekend, opting to limit attendance to sixty persons from each team, including players and coaches. For an hour and a half, those in attendance were able to forget about the uncertainty of the world and just enjoy basketball, reminding us all why sports are so important to us.
The boys basketball season came to an end on Saturday afternoon after Westminster fell to Cape Notre Dame by a score of 59-53 in the Class 4 State Quarterfinal game. It was a rematch of the 2015 quarterfinal game, where the Aaron Cook-led Wildcats also saw their season end.
The game was back and forth at the start. The two teams traded baskets until the score was 8-7. Matt George hit a three in the early going. By this time, it was evident how the game would be played. Cape Notre Dame was athletic; they jumped high, went up to block shots, and tried to force Westminster to make mistakes. They also employed a press and trapped the ball handlers as soon as they crossed half court.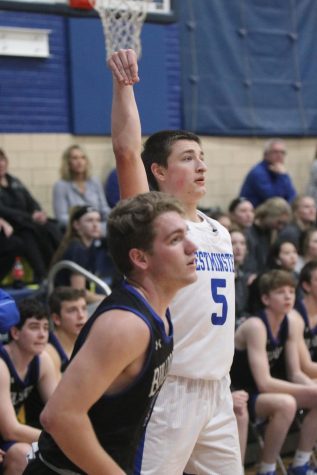 Their aggression was rewarded as they would quickly go on a 9-0 run and jump out to a lead of 16-8 early in the second quarter. It was also clear early that the referees' style of calling the game would go in favor of Cape Notre Dame. They didn't call much of anything on Notre Dame in the first half, and the Bulldogs' aggressive and physical defensive style allowed them to force turnover after turnover. At the same time, Westminster's usually very steady guards were struggling. They didn't look comfortable, and this might've been due to the fact that they couldn't hear a thing in the gym.
The St. Vincent High School gym is a brick prism. Many grade school gyms could hold more people. The acoustics were almost nonexistent. Every noise echoed off the solid brick walls and throughout the small space. Wesminster's fan section easily filled up the gym with noise as they cheered.
Cape Notre Dame's fans were twice as nice because they were twice as many. The girls Class 4 State Quarterfinal game was played immediately before the boys game. Cape Notre Dame, who the girls beat by 20 points earlier this year, was also playing in that matchup. After that game, the girls team and their fans did not leave. They remained in the gym for the boys game, meaning that they had twice their limit of sixty. 
This didn't matter to Westminster for the purpose of trying to prevent coronavirus (although it does go against the basic principle of social distancing), but it did cause a monumental shift in the energy and hype of the game. Cape Notre Dame's 120 fans were able to out cheer Westminster's fans easily and make it almost impossible to hear in the tiny gym. 
Limiting fans is a reasonable thing for MSHSAA to do, and it's especially appreciated as most states have already canceled their tournaments altogether, but allowing one team to have a double ration of fans, especially when the game is being played in the smallest gym either team has played in all year, is wrong. 
I understand it's hard to decipher girls and boys fans from one another when they're wearing the same gear, but this gave Cape Notre Dame an advantage to the effect of a home game and then some. 
After being down eight, Westminster quickly fought their way back into the game with a quick basket followed by a Casen Lawrence three. 
With the score sitting at 18-15, Notre Dame lucked their way into two and-ones, leading Westminster fans to wonder where the quick whistles were at the other end of the floor. It was 24-15, Cape.
Westminster was not playing well. They never found a groove on Saturday afternoon, but they grinded to stay alive and in the game. The Wildcats found the momentum in the final seconds of the first half. On the defensive end, Brennan Orf stood in and took a charge with 5.5 seconds to play.
With no time to waste, Kobi Williams rushed the ball down the floor and flipped it off to the wing for Casen Lawrence, who buried a deep three off the glass as time expired. At the half, Westminster trailed 26-22.
There were a lot of emotions in the minds of the people present. The Wildcats were not playing well, but they were in the game. The Cape Notre Dame fans were hard to tolerate. Not only did they double the fans of Westminster, they screamed loudly and insisted that they had never once committed a foul.
The Cape Notre Dame players were also no fun to play against. They had two players that could jump out of the gym, and they frequently blocked shots inside. Also, Notre Dame's main guard was quite a player. Westminster has seen a few players like him this year such as Charlie Ferrick of Priory and Max Meyers of Borgia, but Tyler Landewee was as quick and tough as any guard Westminster has played against all year. He finished through traffic in ways that were infuriating to watch. He would wind up with 16 points.
Turnovers were also the main frustration for Westminster at halftime. They'd turned the ball over ten times in a handful of ugly ways. A lot of them came out top as the Wildcats crossed half court. However, Westminster could flush everything away and start the second half fresh. It didn't work out that way.
The second half could not have started worse. Notre Dame went on an 8-0 run in the first minute and a half of the quarter, stretching their lead rapidly from four to 12. Coach Ribble was forced to use his third timeout to try and stop the bleeding. What had seemed to be momentum heading into the half was anything but that coming out of the locker room. Westminster now faced the task of clawing their way back into a game with a team that was playing at a higher level. 
Throughout the third quarter, Westminster managed to get to the free throw line consistently. Brennan Orf began to take control midway through the third, pushing the ball up the floor in transition and looking for easy shots. Orf and Casen Lawrence each made it to the line, and slowly but surely, the Wildcats were down eight, then five, then Kobi Williams hit a three and the deficit sat at just two points. Westminster was right back in it. 
This playoff run would not have been possible without Kobi Williams. The freshman scored 14 points in each of the team's last two games, and seven in each of the playoff games before that. On Saturday, he turned the ball over just one time against the Notre Dame press. He's also been confident enough despite being the youngest player on the team to take shots in important moments, including the three pointer that brought the Wildcats within one basket in the third quarter on Saturday afternoon. Having him certainly makes the future look brighter, but his significance to this year's squad can't be overlooked.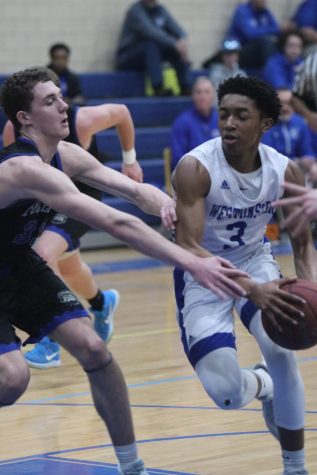 In the final seconds of the third quarter, Brennan Orf went to the line with a chance to shoot two free throws and tie the game. He made one, and the score at the end of the quarter was 38-37, Cape. 
Notre Dame came right out of the break ready to play, just as they had after halftime. They scored two quick baskets and stretched their lead back out to five. Westminster clawed back and Casen Lawrence hit two more free throws to get within one, but Cape scored twice more and the lead was once again five. Westminster then turned the ball over down five with two minutes to play, and it was time to start worrying. 
Thirty seconds later, Brennan Orf picked up his fifth foul. A Notre Dame player came around from the top of the key and down the left side of the paint. Orf was ready for him, parked in the lane waiting to take a charge. His feet never moved. It looked textbook. He was called for a block and forced to leave the game. 
From there, Westminster fouled and traded baskets back and forth with Notre Dame. Kobi Williams hit a three pointer at the buzzer, but it was far too late. The final score was 59-53. 
This team hadn't played such a poor game in a couple months. They simply never looked comfortable. Games like these happen, it's just unfortunate for both the players and the fans that it had to end under these circumstances. Westminster didn't play games in front of empty student sections this year. Sadly, they had to on Saturday. 
What happens in the world is out of our control, and the season won't be remembered for this moment. We'll remember Spirit Night. We'll remember The Dunk. We'll remember beating MICDS at home, and we'll remember bringing back a District Championship as the entire Westminster community watched. 
Losses like these test your worldview. In the wake of heartbreaking defeat, you learn what being a part of a team is all about and what it means to your teammates. For these boys, it was about each other. They stayed in the locker room long after the game. They emerged together and hugged their families and friends. They let the game go, at least on the surface. It was all done with. The only thing they could do was enjoy each other's company in their final hours together as a whole team. 
At dinner, they laughed and enjoyed one final meal. They sang songs on the bus the whole ride home. When you lose a tough game in a big moment, sometimes all you can do is enjoy the guys you just went to battle with. 
Saturday's game was hard. However, for that hour and a half, there were fans and there were players, and all who gathered at St. Vincent High School were basketball fans. 
Normally, when tragedies strike the world, we can always lean back on sports as an outlet. Currently, all professional sports are canceled. There's nothing on TV except for the same news on repeat. Saturday's basketball game was a nice outlet. 
Brennan Orf's basketball career is over. He'll play baseball at the next level, but his basketball skills won't soon be forgotten. He scored 1,201 points in his career. He was a key contributor on three very unique and distinct teams, the best of which was this year's. His unselfishness guided the younger players, and the puzzle pieces fell right into place, making for a wonderful team that was extremely skilled and even more fun to watch. It was a privilege to watch him play his whole career selflessly in a sport and era dominated by flashiness and ego.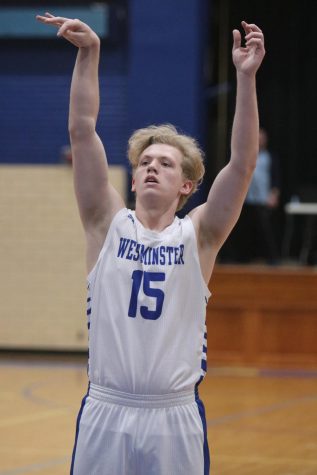 Matthew George was a player that was going to succeed purely based on his dedication. His hard work earned him a starting spot as a senior, and he knocked down shots consistently throughout the year. Teams need guys like Matt who can make people pay when they're left uncovered.
You never know who's going to last from a freshman basketball team. Zach Benes was one of the guys no one expected to blossom in the way he did. His quickness and athleticism earned him a spot, and he often entered the game to give the team a spark when they needed it. 
Lane Davis finally got healthy to play basketball this year. He was a consistent ball handler who could hit open jump shots. He will be remembered for his defensive performance on Brandon Mitchell-Day against MICDS.
Bennie Anderson added heart. There's no doubt one of his main jobs was to come to practice and make his young teammates tougher. Time will tell if he did his job. A fan favorite, Bennie finished the season with four more fouls than points, but he did earn three starts throughout the season and was the only player that the Blue Crew chanted for.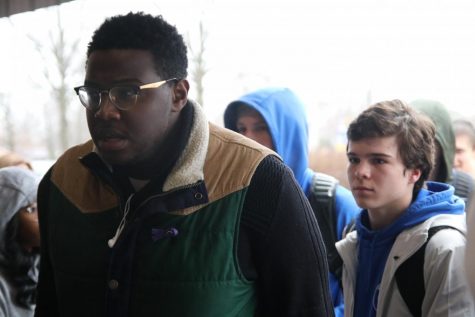 These seniors made this team. There was no ego this year. You don't see stuff like that. It's been an honor to cover this team, and it all starts at the top with Coach Ribble. Teams this good are normally entitled. They complain to the referees or talk trash on the court. There was nothing like that this year. This team was easy to cheer for. 
Being able to cover the boys this year has made 800 Sporting a joy for everyone involved. We could start talking all about the future, and the future is most definitely bright, but if I've learned one thing this week, it's that you better just enjoy what's directly in front of you because you never know what could happen tomorrow. 
Westminster got to enjoy a fantastic boys basketball team this year. We can all be thankful for that.