Tommy Briner
The District Championship game last Thursday had more pomp and circumstance. It had all the frills that come along with playing a hated conference opponent, and the celebration was much greater in front of a home crowd as the boys basketball team had slain the beast and would now be drifting into uncharted waters. Tuesday night was a little different. It was just a beatdown of a team that really couldn't hang. It was a game Westminster felt like it should win, and the team came out and took care of business. Nothing more.
The Wildcats reverted to their midseason ways of cruising to twenty-point victories on Thursday night with a fairly boring 72-50 victory over St. Mary's. The Westminster lead dwindled to seven for a brief moment in the second half, but it was immediately stretched back out and never came back. 
The floodgates were open from the very beginning. The game started with a long Westminster possession that ended in a basket. From there, before St. Mary's knew what had hit them, it was 12-3 in favor of Westminster. 
At the conclusion of the first quarter, the Westminster lead sat at ten by a score of 17-7. The Wildcats coasted through the rest of the half, committing a handful of bad turnovers and playing carelessly against a St. Mary's press that, put frankly, lacked teeth. 
St. Mary's best play of the night was wearing the Southside Catholic uniforms. The Jordan threads with the deep forest green and classic retro school name were fantastic. However, not much else the Dragons did was so great. They were fantastically bad from beyond the three-point line. They made one shot on twenty attempts from deep, including zero in the first half.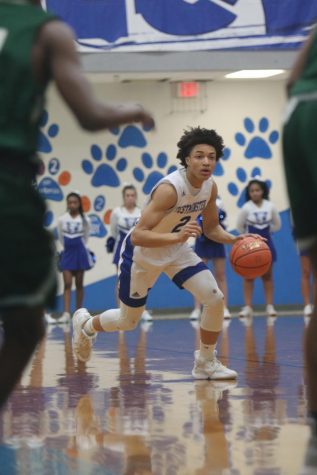 By halftime, the score was 27-17, Westminster. The game was playing out predictably. This team has a tendency to jump out to an early lead then put on cruise control and play somewhat sloppy. However, everyone in the gym knew that this was Westminster's game. 
The Wildcats put their foot on the gas pedal as soon as the second half started. Three-pointers on consecutive possessions quickly stretched the lead out to 16 and the Wildcats had some breathing room. I'd hesitate to say that St. Mary's stayed in the game from here, but they weren't completely out of it. They traded baskets with Westminster and chipped away slowly at the deficit. More specifically, senior St. Mary's star Sofara Rasas was keeping the Dragons in the game.
At 6'4", the senior forward has been the rock of this St. Mary's team this year. He averages more than 24 points per game on the season, and tonight was no different. He's a slasher, and he finds impressive ways to finish around the rim. He scored on putbacks, post moves, and drives to the lane as he grinded his way to 25 points in his final high school game. 
St. Mary's was most definitely capable of scoring. Although they struggled to shoot the ball, their main crutch was their inability, or perhaps stark refusal, to play defense. Casen Lawrence has made almost 41 percent of his three pointers this season. He is, in a word, potent, from downtown, especially when left uncovered. St. Mary's had the film. They had access to the statistics. They knew Lawrence could shoot, yet they failed to guard him repeatedly. Lawrence made five out of his six three pointers on Tuesday night, and not once did he receive an ounce of pressure from a defender on a shot. He gashed St. Mary's for possibly the easiest 19 points of his career. This was either disastrously bad planning or terrible execution on the part of St. Mary's, and it was a main factor that cost them the game.
The Dragons also run a full court press, as mentioned earlier. They run the press all game, every game. The pressure resulted in a few turnovers in the second quarter, but St. Mary's gained very little from the press for how many easy layups and open shots they gave up after getting beat down the floor. It's like stealing candy from a baby. If you give Westminster open shots, there's a good chance they're going to make those shots. 
Another guy who made shots on Tuesday night was Matt George. Swamp, as he is affectionately known, came alive early and gave his team a spark on both sides of the ball. After hitting a three in the first quarter, he took a charge in the lane against Rasas, who would in turn have to sit out a good portion of the second quarter with two fouls. George finished with 11 points on 3-6 from three-point range along with his second two-point basket of the year, a contested finish at the rim.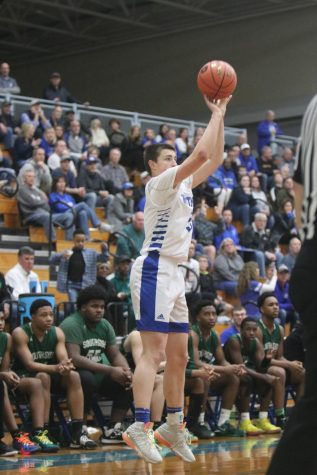 After three quarters, the game was still interesting. Westminster led 45-38, and every fan would be lying if they didn't think deep down that this game was much too close for comfort. Then the Westminster offense came alive. 
A barrage of Westminster baskets from an array of different players led the Wildcats on a 19-8 run, and the lead was back out to 16 by midway through the fourth. This thing was pretty much over. 
St. Mary's officially gave up after Casen Lawrence buried a deep three from out top. By the time there were two minutes left on the clock, the Dragons had quit playing defense altogether and were giving the Wildcats layups. 
With a minute remaining in the game, fans got some bonus action from Bennie Anderson, who had actually made a brief appearance in the first half as well. With under a minute to play, Anderson got fouled on a shot down low. The ball sat on the iron for an eternity before falling out. Anderson missed both free throws and what could've been an and-one quickly turned into no points at all.
It didn't matter though. The game was over. The final buzzer sounded and Westminster won 72-50. 
After the game, the team found out that Cape Notre Dame had defeated Park Hills Central, indicating that the Wildcats will be playing Cape on Saturday afternoon. The teams have only played one common opponent: Confluence. Westminster defeated Confluence by 20 while Cape won by just six. That all means very little, though. It's the quarterfinals, which means it's anybody's game. It's also worth mentioning that Vashon, the probable state championship game opponent for whoever wins Westminster's side of the bracket, defeated Ladue by an impressive 32 points on Tuesday night.
All in all, Tuesday's game was a confidence-building win for Westminster. To beat a Sectional opponent by 22 is impressive regardless of the circumstances, and Westminster fans and players alike can sleep peacefully knowing that the team is ready to dance with the big dogs. 
Brennan Orf had a double-double that included 11 points, 10 rebounds, and five assists, but he was not the team's first or second leading scorer. Lawrence led the team with 19, freshman Kobi Williams followed with a quiet 14, and Orf and George tied for third. Caleb Thompson, who fouled out, finished with 10.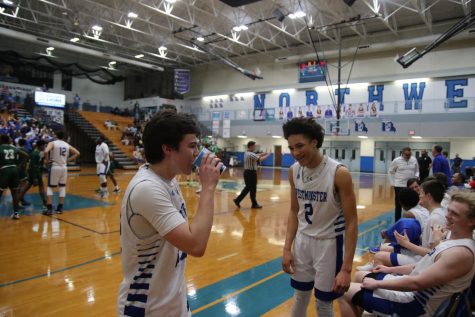 The game felt surreal. A Westminster team is playing this week in a quarterfinal game. What a year it's been.
It's business time now. At this point, it's final four or bust. This team has come too far to fall. Spring break plans will be destroyed, and with a little luck, maybe some nets will be cut down.
Westminster plays Cape Notre Dame on Saturday at 2:45 PM at Hillsboro. Stay tuned on Instagram and Twitter to find out more about Cape in the coming days.