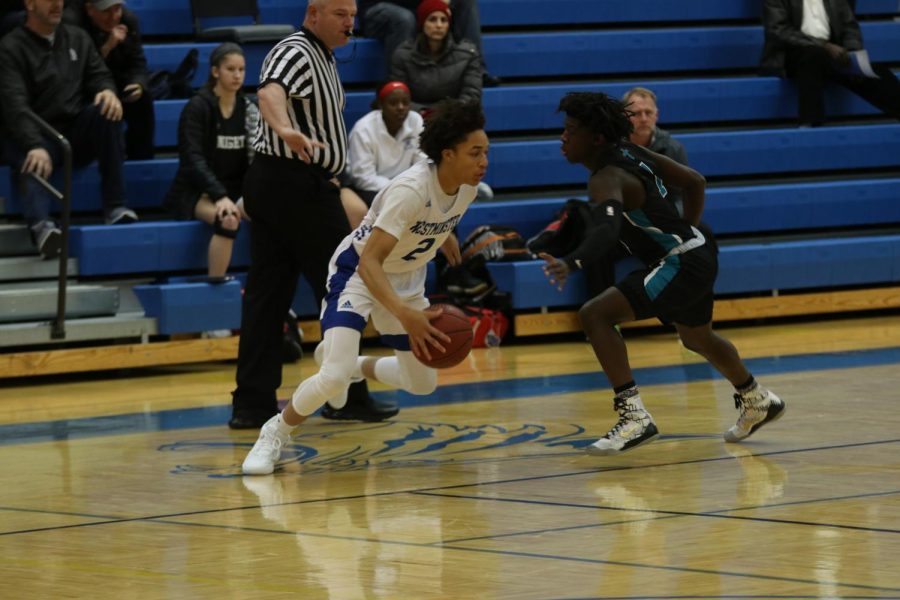 Pearson Georges
The boys basketball team came from behind to win their second regular season game of the season on Tuesday against Christian High School. Although it wasn't always pretty, the Cats came back and took the lead when it mattered most in the fourth quarter and come away with a 61-56 win.
The game started out as a back and forth affair. Senior Matthew George found a groove and knocked down a couple of three pointers in the first quarter, something that everyone was looking for from him. However, this was short lived. The Christian High Eagles came out in a full-court press, leading to many early turnovers by the Westminster guards. 
The Wildcats also struggled defending the paint. The Eagles were able to drive inside early, resulting in easy layups. The Wildcats also suffered a setback when the Eagles made a buzzer-beating three from the volleyball line at the end of the half. With this, Westminster trailed by eight at the half. 
Coming out of the break, the Wildcats needed to find answers defensively. They adjusted by rotating through a plethora of defenses that included a 3-2 zone, a halfcourt trap, and man-to-man. These changes kept the Eagles on their toes, but the Wildcats still took a ten point deficit into the fourth quarter.
The fourth quarter belonged to Brennan Orf. He converted back to back and-ones en route to a quick 9-0 run for the Wildcats. This run brought the team to within three points. He was just as menacing on the other side of the ball too, coming up with a couple huge blocks to keep the momentum for the Wildcats. The Cats finally broke through and took their first lead on a three pointer from the top of the key by Jakobi Williams with just three minutes left in the game. Although the Cats had struggled shooting free throws throughout the game, they were 6-6 in the final two minutes, sealing the Wildcat win.
This game was by no means a stellar, or even a strong performance by the Wildcats. They were able to take the lead thanks to Brennan Orf taking over in the fourth quarter, and eventually making free throws to seal the game. 
The Wildcats are having growing pains. They really have only four experienced varsity players. Other than Brennan Orf, Matt George, EJ Williams, and Casen Lawrence, nobody has seen considerable varsity time. With a lineup of around ten guys rotating in and out, the Wildcats have a lot of inexperienced, but very talented players. There are things to clean up, but the Wildcats don't play for nine more days until they take on DuBourg at home on December 20.